This interview is part of the Leading Ladies series, introducing you to local women who are contributing to our motorcycle community and the growth of female ridership in BC.
Name: Rosie Gabrielle
Role: Photographer/Adventure Motorcyclist
Rosie, we are happy to catch you between travels for an interview in British Columbia. You have been touring the world for some years, often on two wheels. What do Vancouver and your home province BC mean to you?
Over the past 12 years of traveling I've always made it a point to be back in Vancouver and BC during the summer. I think we are very lucky to live in such an alluring city and to have so many beautiful destinations right at our doorstep. The feeling never gets old: As the plane descends from the sky overlooking the coastal mountains, I take a deep sigh – I'm home. No matter where I've been traveling, the thought of coming back to BC always excites me.  I enjoy spending the majority of my time here exploring, whether it's a quick trip to Squamish or a longer getaway to the interior.
What is your favourite road or destination in BC for a nice ride?
There are so many incredible places to ride in BC, but this summer I really enjoyed the super twisty road going from Vernon to Nakusp, where I saw six bears! The Nakusp hot springs are amazing, too. I especially recommend the St. Leon hot springs just outside of town in a little hippie community.
Where have you traveled by motorcycle so far, and which country or city made the biggest impression on you?
I have travelled through Thailand, Laos, Vietnam, Cambodia, India, Turkey, Oman, the USA and Canada by motorbike. It is really hard to say which place impressed me most, because I have had such unique, life-altering experiences everywhere. Each place has had a profound effect on me and holds a special place in my heart. There are also many countries I've traveled to differently, but would like to return to by motorcycle. Nothing really compares to traveling on two wheels, it just gives you a whole other experience.
How do you plan and pack for week- or month-long trips?
I generally don't plan, which isn't the best advice for some, but it works for me.  I typically have a rough idea of where I want to go, but choose not to determine the exact riding distance for the day nor my accommodation in advance. I like to stay flexible and see where the day takes me. Not rushing gives me the option to change my mind to go explore spontaneously. It's more of an adventure that way!
Regarding packing, my advice is: Consider what you want to take and then divide it in half, because you never need as much as you think you will. I pack the necessary bare minimum: one pair of pants, a couple of T-shirts and enough underwear for a good rotation. I always make sure to have plenty of warm layers, hot hand packs and would also recommend decent waterproof outerwear to throw on top. A recent purchase of mine was the super compact "Flash Cooking System" by Jetboil. It's wonderful to have a hot soup at the end of a cold day on the bike. Another new discovery of mine are Butler motorcycle maps, which specifically highlight the most scenic motorcycle roads in the USA. What I struggle with most is my camera equipment, because it's all very heavy and I have to be selective with what I bring along for the ride.
Do you have any particular advice for fellow women adventure riders travelling solo?
The first thing I always purchase on tour is a local sim card and data plan, to be connected in case of an emergency, to research information and to stay in touch with my family.
My last and most important advice is: Heading out is the hardest part, so don't be afraid, be open minded! There are so many beautiful people out there and most of them just want to help travelers. Often, they find it inspiring to see a single female on a bike.
You work as a photographer and document your motorcycle tours. How does this influence your voyages in general and your riding specifically?
Documenting a trip comes at a huge sacrifice, because I tend to not live in the moment as much, but constantly think: Wow, this is great, how can I best capture this? Can I put a tripod over here and use the chest-mounted camera for another angle? I'm a bit of a perfectionist so I don't accept doing mediocre things. I recently got into film as well, which is even more time- and energy-consuming. There is a lot of behind-the-scenes work, such as stopping a million times, unpacking the gear, and setting up tripods for drive-by-shots. All this is especially difficult when travelling alone. But knowing that I may only have one chance to capture that moment, and that it would make a huge impact on my photos and videos, motivates me.
There are some trips I've done where I really wish I hadn't brought a camera at all, so that I could just completely be in the moment and experience the ride without thinking of the shot. I'm working on ways to find that perfect balance between documenting and having "me" time.
How did you get into motorcycling?
When I was nineteen, I embarked on my first solo trip to Southeast Asia. I went there with the intent to backpack around, go off the beaten track and have a real cultural experience. I was quite disappointed when I quickly realized that taking the bus for ten or more hours meant missing all of the good stuff in-between destinations and being only around tourists. Then I rented a motorbike to do an overnight trip from Pai to Mae Hong Son in northern Thailand. It was my first time ever riding a motorbike, but after that there was no question – I would do the rest of my trip on two wheels.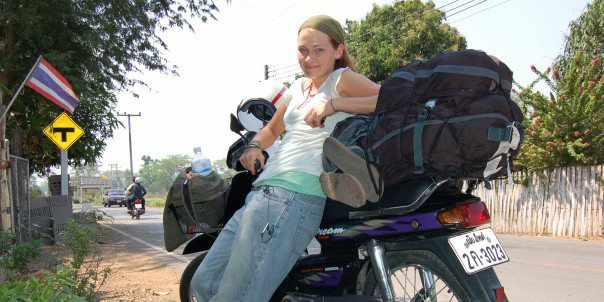 What was the first bike you ever owned?
In Thailand I volunteered in an orphanage just outside of Chiang Mai, where the hosts helped me locate a bike and facilitate the sale: It was a 125cc Honda Dream.  I looked at bigger bikes but knew for a fact that this bike could go anywhere because all the locals rode it. That meant that if it broke down, parts would be easy to find and people would know how to fix it. So I was off, with my backpack bungee-strapped on the seat, no proper gear, just wearing shorts and sandals. I only had a paper map to find my way, but I rode 12,000 kilometers across Thailand, Laos, Vietnam and Cambodia by myself. The journey took six months, because I volunteered in each country and got to know the local culture. It was an experience that profoundly impacted me.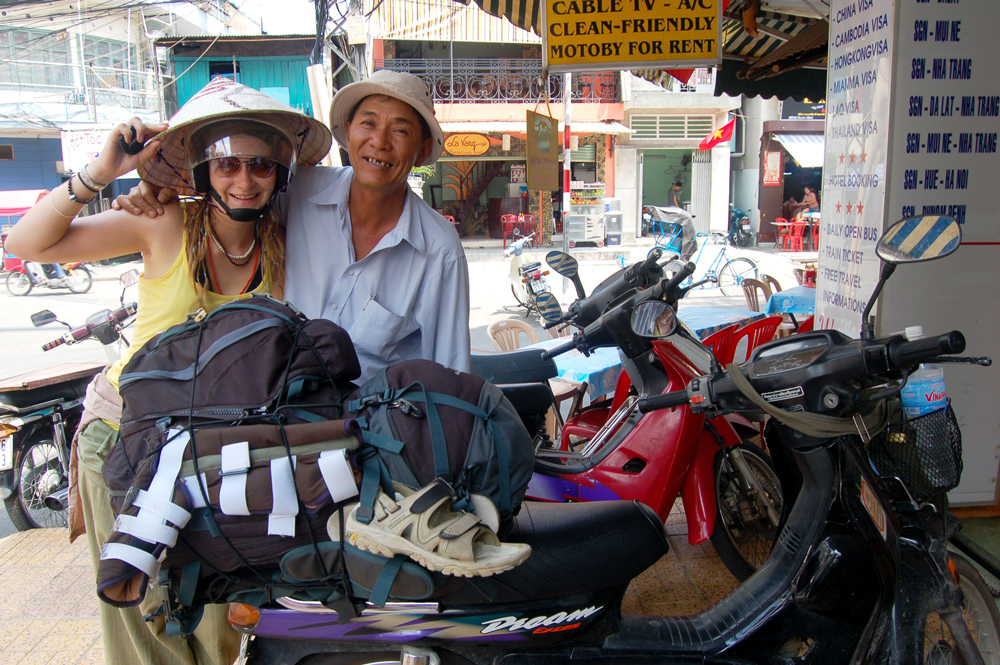 As soon as I got home to Canada I bought myself my first "big girl" bike, a 1983 Honda Shadow 500, which I still have. I just completed a 5,000-kilometer trip, from Vancouver to Yosemite and back, with my small dog Winston on this loyal bike.
What types of bikes have you tried out so far? What is your dream ride?
I've been lucky to try an array of motorcycles besides my own over the years, including dirt bikes, the above-mentioned Honda Dream, a Hero Impulse 250, a Bajaj Pulsar SS400, a Ducati Multistrada 1200, a Royal Enfield Rumbler 500, and a Kawasaki KLR650. I've gotten a good feel for what I like, although I'm not particular with what I ride as long as it has two wheels. My dream bike is a Triumph Scrambler, because it has the perfect character for me; it's humble, not too big or too flashy, and it can go anywhere.
You have recently made motorcycle travel and photography your profession. Where will your journey take you and your business next? What are your future plans?
I'm still mostly photographing, but have recently transitioned into video as well. I documented both my solo trip across Oman earlier this year and my most recent one to California. The footage will be released by the end of 2016 or early in 2017. In these videos and in future projects, I will focus on what it's like for a solo female on the road, but will also integrate local culture and the amazing people I meet along the way. Through my travels, I hope to inspire more women to ride, but also influence people in general to get out there and explore the world on two wheels! My biggest dream would be to include humanitarian work in my adventures.
We consider you a leading lady in the BC adventure riding community. What do you think about the growing number of female motorcyclists in our province and elsewhere? Do you ride with other women?
I think it's so encouraging that more women ride and that there are female rider groups popping up everywhere, starting a revolution! When I returned to Vancouver from Oman in May, I got introduced to the local women motorcyclists community. My first encounter was on International Female Ride Day, where I met dozens of incredible, strong women, each with their own story. Since then I've joined a few all-female rides. It's something very new to me, as I have always been a lone bird and am not used to riding with many people. Everyone has their own riding style and way of travel. I still prefer to ride alone or in the company of only one companion.
Who are the riders that inspire you, male or female?
Over the past couple of years I've attended Horizons Unlimited events, where motorcycle travelers from all over the world meet, share their stories and exchange experiences. There, I've met so many bold, adventurous people who live out their dreams. Really, anyone who is out there passionately riding and exploring inspires me.
Do you have a personal motorcycle hub?
My personal motorcycle hub is in my heart and on my bike. Nothing else thrills me more or keeps me more at peace than riding.
---
For more details about Rosie's –and Winston's– upcoming motorcycle adventures, follow them on Instagram and on Facebook:
instagram.com/rosiegabrielle/
facebook.com/rosiegabrielleADV/