The people we meet, places we see, and things we experience on the road are why we leave home in the first place. No statement could be truer about why one might go north from Vancouver on motorcycles, in search of adventure along Route 16. Known as the Yellowhead Highway, the road begins in the Canadian prairies, cuts through the Rocky Mountains, and bisects British Columbia from east to west. In BC, it's the arterial corridor that gives life to business, travel and recreation in the north and centre of the province. A hive of history and culture, it is baptism by immersion and a must-see tranche of land and life for those from near and far.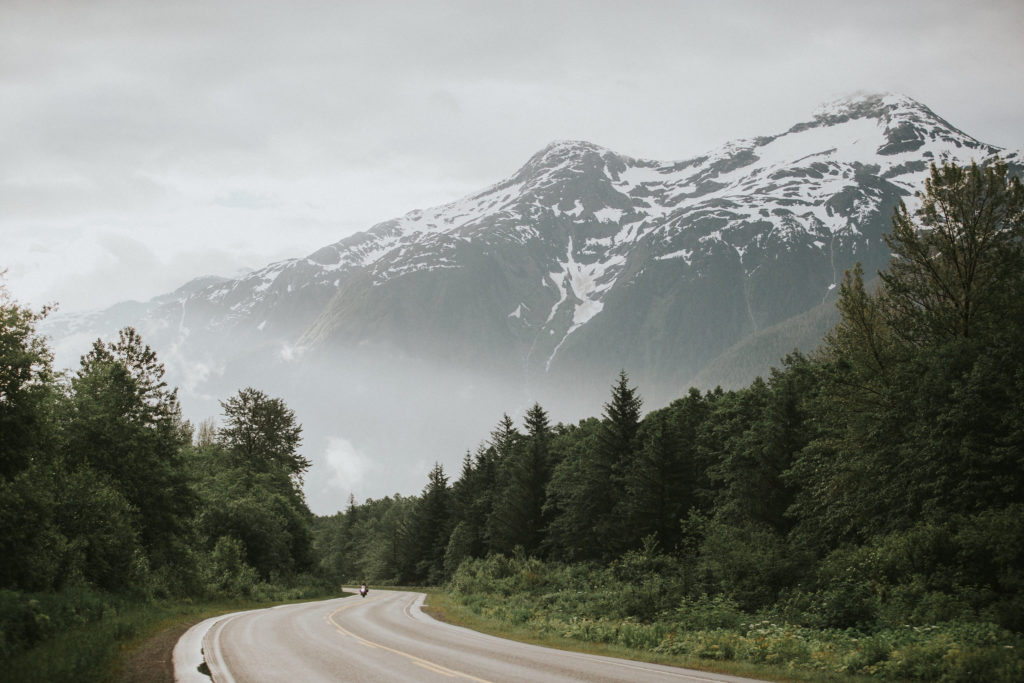 As far as motorcyclists are concerned, Route 16 is a spectacular road to ride, with a myriad of options for getting off the beaten track on either side, and loaded with great people to happily show you the way to your next favourite road, campsite, restaurant, or viewpoint. If your travel begins and ends in Vancouver, it makes a great northern leg of a circle tour, and one that you can really make part of a longer trip around BC, depending on your appetite for motorcycle touring.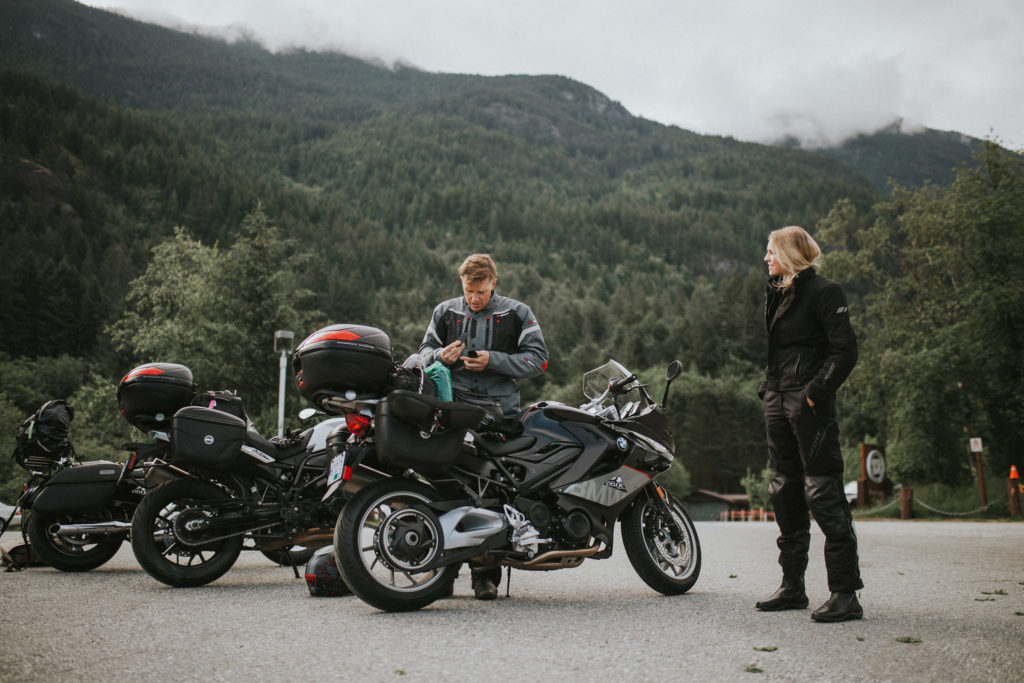 In Vancouver, CycleBC is the go-to motorcycle rental outfit that offers a variety of steeds, fortunate in this case because of the mixed nature of the group. Made up of Megan, actress and founder/editor of The Motorcycle Hub; JS, professional photographer and constant source of hilarity; and myself, Theo, writer, Vancouver real estate agent, and general adventurist, we're different shapes and sizes and look for different qualities in our motorcycles. Mike Gat is the owner of CycleBC and is well attuned to helping shape his customers' experiences, so he was able to cater to our varied needs and wants. With the prospect of some light adventure riding, the certainty of twisty roads and long days in the saddle, we eventually set off in the bright summer sunshine on a BMW F800GT, a BMW F700GS, and a Harley Sportster SuperLow.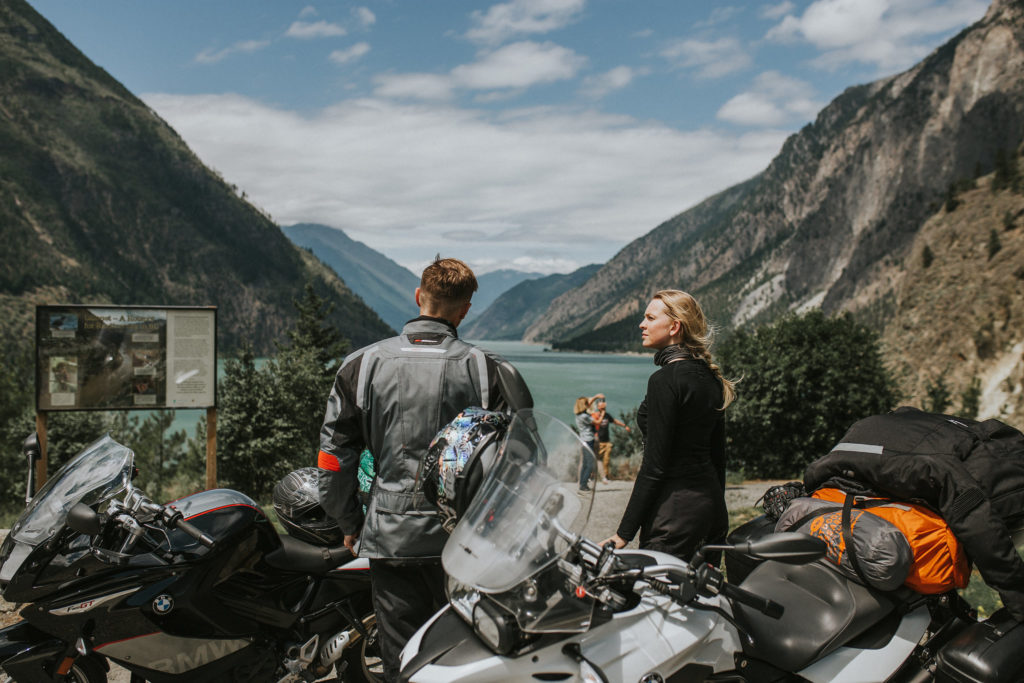 The roads heading north from Vancouver are beautiful no matter if you pick the coastal or inland route to begin with. With a schedule to keep, day number one was a long — but gorgeous and uneventful — 800km. A morning ride up the Sea to Sky Highway treated us to sunrise on the Tantalus range, snow-covered peaks above the Duffey Lake Road, and terraced farmland along highways 99 and 97 through Lillooet and up through Clinton. From 93 Mile House we ducked east on Highway 24, a quiet, rolling road that joins Hwys 97 and 5, the two main north-south routes through BC, and finally cleared Wells Gray National Park and Blue River to arrive at our first official destination of Valemount, as the dinner hour was approaching.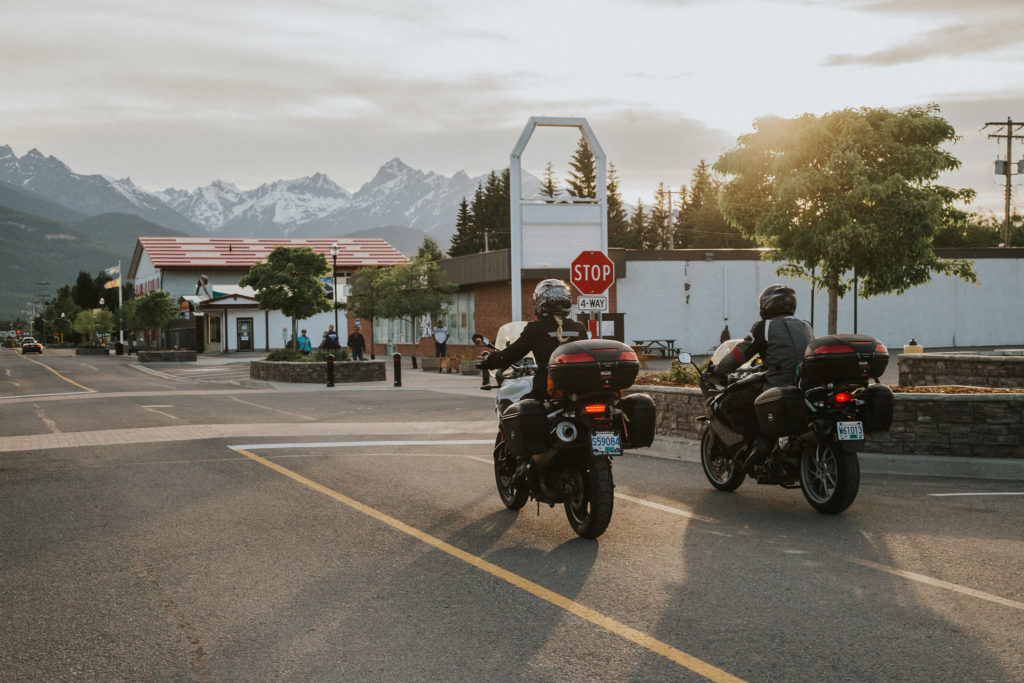 Valemount is BC's eastern-most community along Route 16, and a destination of growing interest among outdoor enthusiasts. 2017 marked the first (of hopefully many) annual vALEmount craft beer festival, and travelers were coming from miles around to sample the local brew from Three Ranges Brewing. For travelers and sightseers, Valemount holds significance because it's only 20 km from Mt. Robson, the highest mountain in the Canadian Rockies and the most prominent peak in the entire continental range. It's majestic, simple as that, truly the type of mountain that makes you sit up in the saddle when you come around the corner and see it rise to seemingly impossible heights. A spectacular sight, and on the 150th anniversary of Canada's birth, a fittingly iconic landmark from which to begin one's westward journey through British Columbia.
Along Route 16, the traveling motorcyclist has a huge amount of options for where and how to sleep. The countryside is wide open: small towns are plentiful and welcoming, and Canadians are polite and caring about your comfort, so hotels, lodges, cabins and B&Bs are generally well appointed.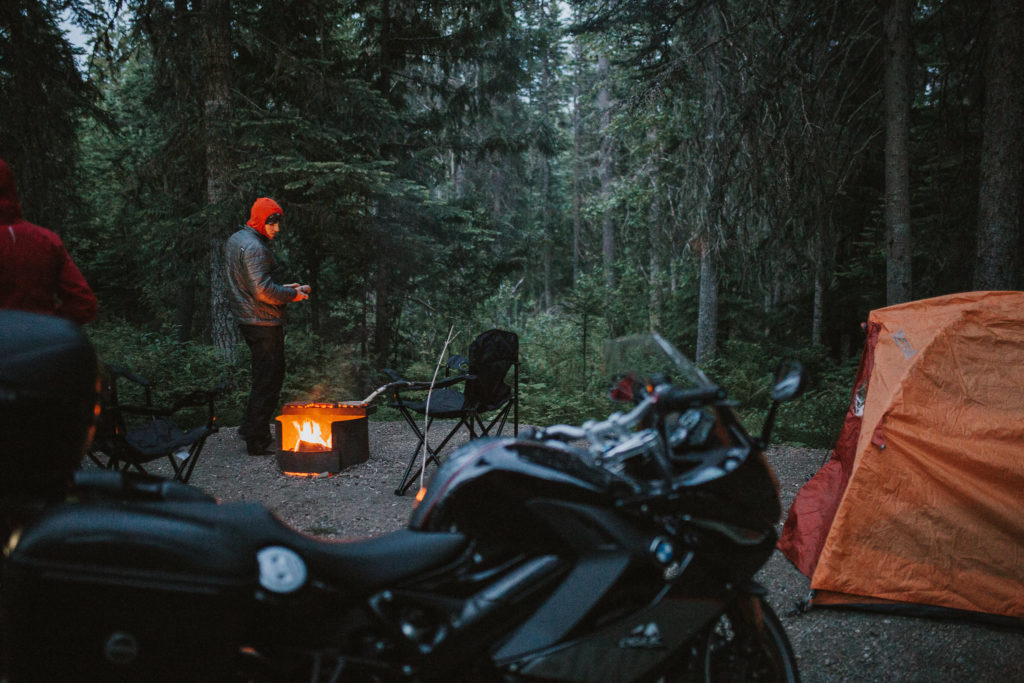 Any rider worth their salt is ready and willing to camp on occasion, so we seized the opportunity to try out the Purden Lake Provincial Park and explore the nearby Ancient Forest. The latter one is of particular interest, because it's the world's northernmost inland rainforest and is under consideration for world UNESCO status due to its ecological variety and unique nature.
Further west from Valemount, McBride and Purden Lake, Prince George (PG) is known as the 'Capital of Northern BC' — and deservedly so. A city of about 80,000, it's the industrial heart of the province, and once carried a less-than-stellar reputation for its population known to be rather crimson around the collar. Fortunately, the times they are a-changing, and while the working people of northern BC still come to roost here on weekends, modern entrepreneurialism is alive and well, and the University of Northern BC is a respected academic outpost across many industries.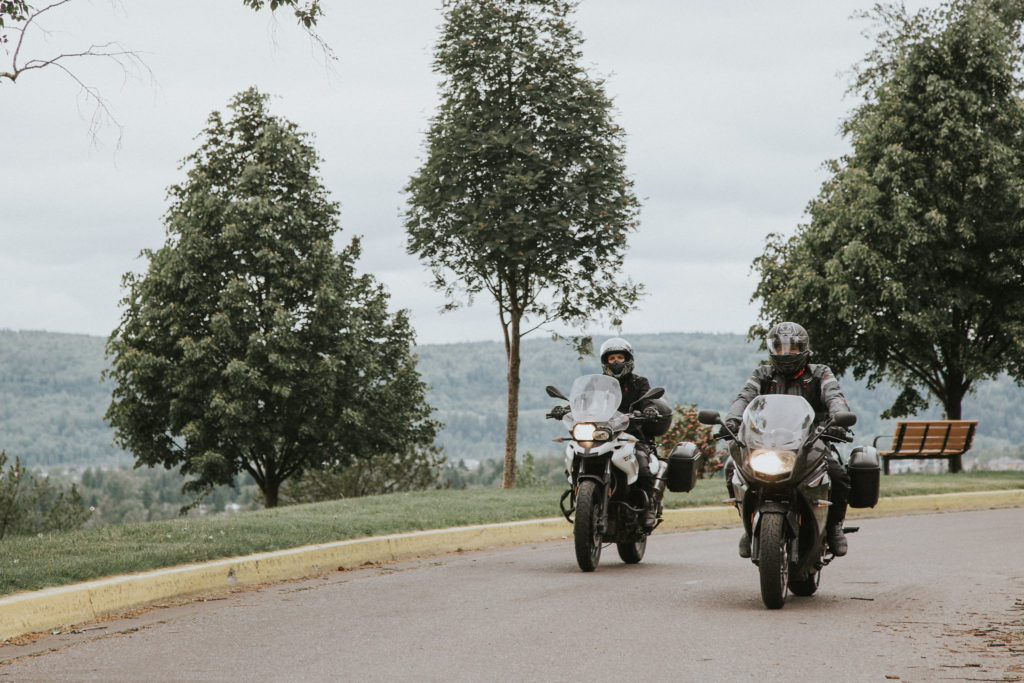 Rolling into Prince George on a motorcycle is a simple task. The Bon Voyage Inn and the Coast Hotel preach a love for hosting traveling riders, and the latter establishment is managed by David McQuinn, one of the nicest human beings and most enthusiastic motorcyclists I have ever come across. The quintessential hotel owner, he is quick to let us know, "My greatest fear is your discomfort," and his passion for hospitality and the gospel of Harley clearly knows no bounds.
The town is full of jovial folk like David at every turn, and there is an entrepreneurial spirit focusing on great food coupled with touristic experiences that celebrate the region's past, present and future, both man-made and natural.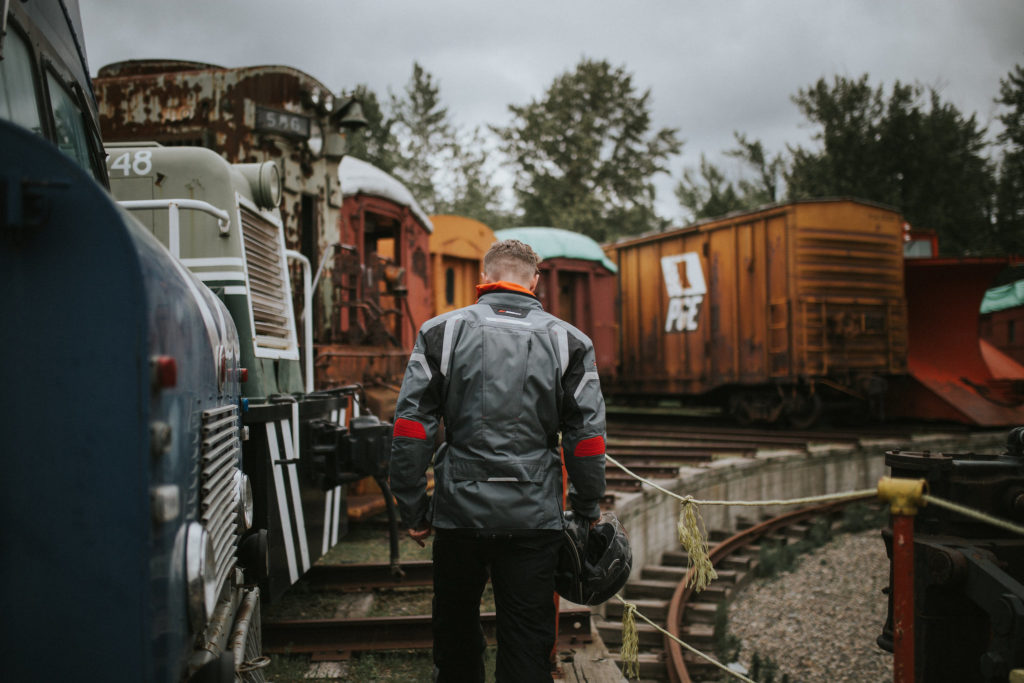 Culture, history and science have a strong foothold. Those interested in learning about how BC was built are well advised to check out some highlight institutions: the Central BC Railway & Forestry Museum, home of 100+ year-old rail machines and logging paraphernalia; the Lheidli T'enneh Memorial Park, a traditional village site and cemetery for the local First Nations; and the Huble Homestead, a living throwback to the early settlers of the area and a true glimpse of what pioneer life looked like.
Finding good food and drink is no hard task in Prince George, something no one would have said as little as a decade ago. Northern Estates Winery is the northern-most winery in North America and produces a strawberry rhubarb rosé that Wendy Giannisis, the sales and service manager, calls "trouble in a bottle."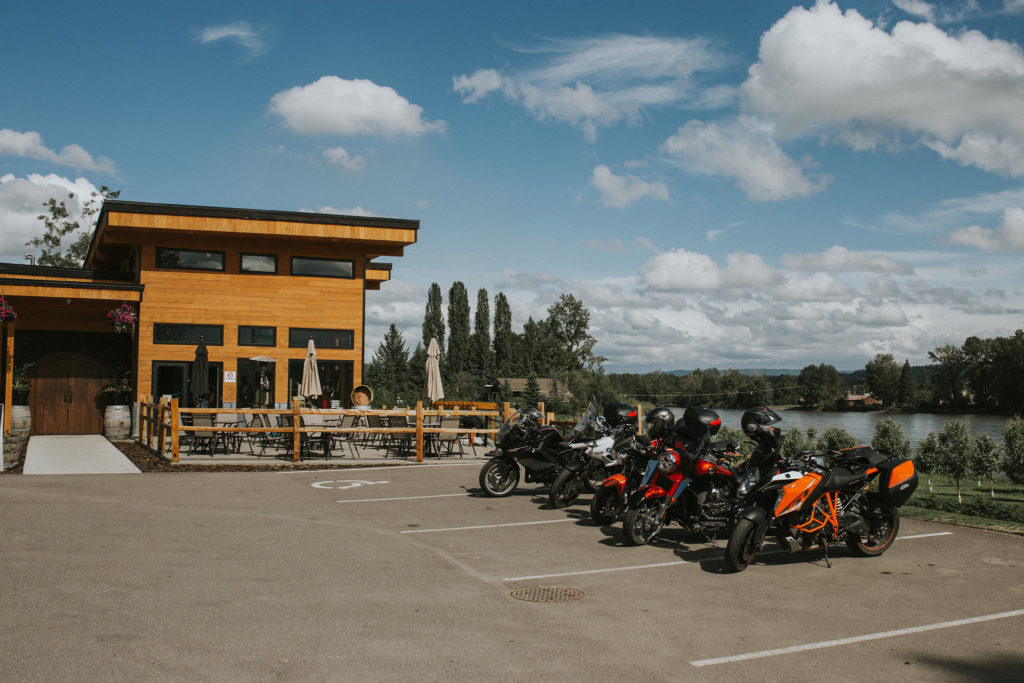 The foodie's options through town are plentiful, with the coffee, pizza, bbq and Mediterranean food groups well represented. The Crossroads Brew Pub, newly founded in 2017, serves fantastic craft beer and Napolitano-style thin crust pizza, and is a regular haunt of the Saddlebags, the Prince George chapter of the Women in the Wind international women's riding club. 18 members strong in PG, we dined with such gems as Susan, who's been riding for over 40 years, and Diana, who's 4'11, 67 years old, and decided four years ago she was "tired of being a passenger and — gosh darnit — is going to get [her] own bike." It's a Harley, of course.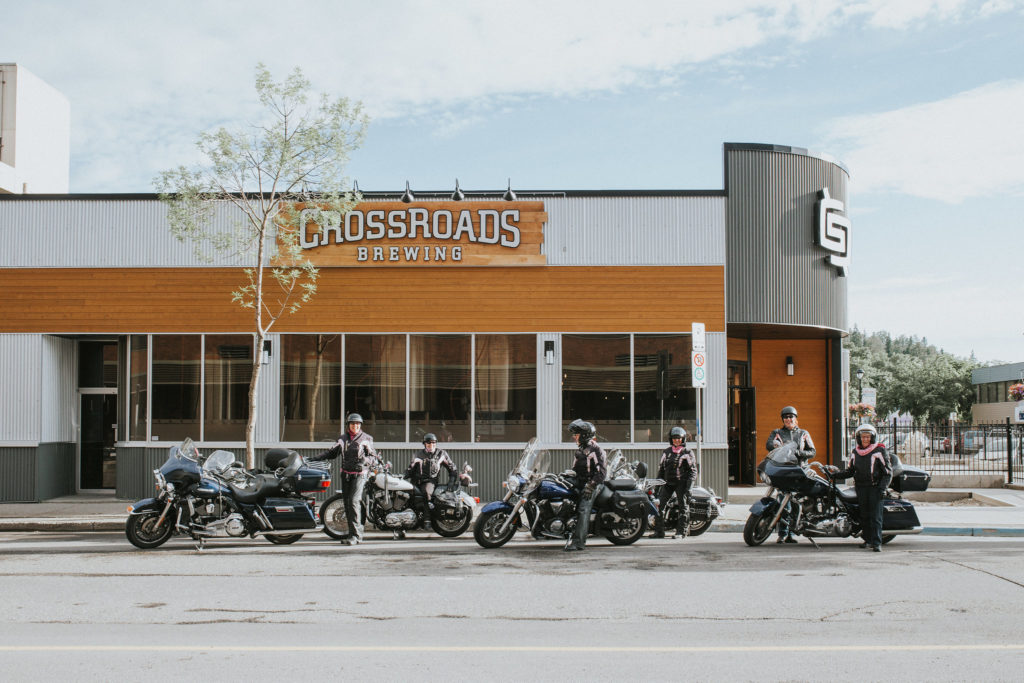 In fact, Harleys are a big part of the riding culture in the north, a part of the country filled with tarmac made for cruising. While the highway certainly twists and turns, few and far between are the truly twisty canyon runs like one might find in the Kootenays or down the Pacific Coast, so sport bikes and supermotos are a rare sight. Here, if you ride the paved stuff, you ride in comfort, and Len Hall at Prince George Harley, Steve Graf at Smithers Harley, and Sam Henderson at Eyecandy Custom Cycles in Smithers are sought-after purveyors of machinery, advice, service and stories. Beyond the beaten track, the provincial landscape is almost incomprehensibly extensive and begs to be explored, and adventure bikes, ATVs and purebred dirt-racing machines are prevalent in these parts too. One can ride from Smithers to Terrace — a 2.5-hour journey on Highway 16 — in about 45 minutes on singletrack logging roads, and we heard of a group of riders heading to Vancouver from Stewart/Hyder completely off-road — an epic 900 km stretch as the crow flies.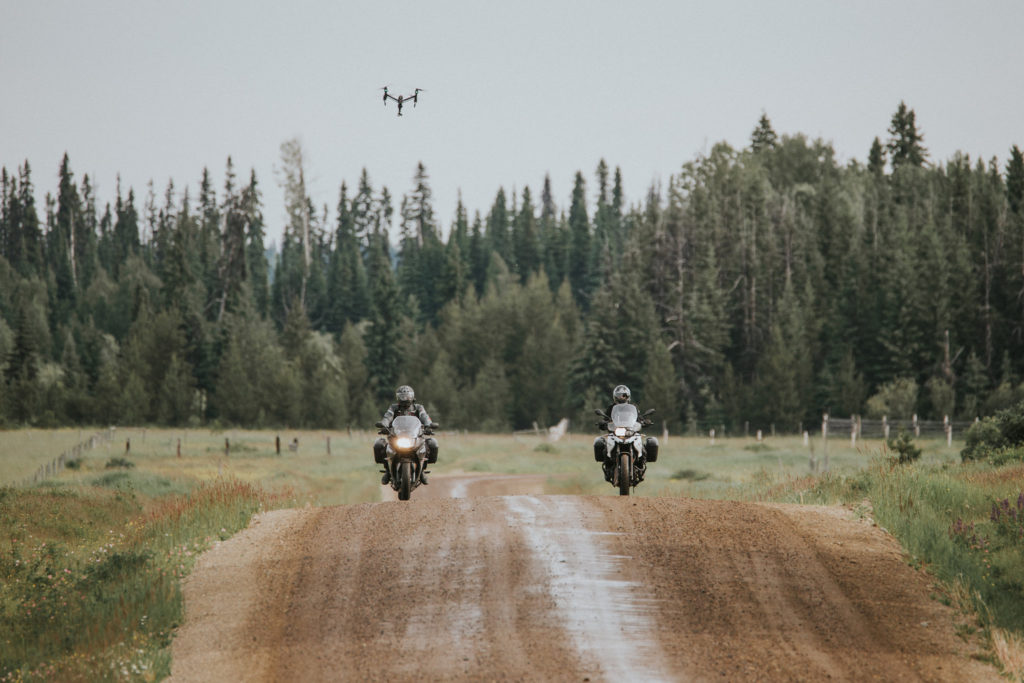 Smithers is 370 km west of PG and really the first 'mountain town' since the Rockies. An idyllic small town, Smithers is home to an incredible amount of young, energetic families that have moved north for adventure and community from larger locales like Vancouver and the Okanagan valley. It's a recreationalist's dreamland where you can ride, fish, ski, mountain bike, paddle and swim all in the same day, and take all those pursuits very seriously year-round.
The mountain views from any street in town are awe-inspiring, and only surpassed in quality by the general demeanour of the townspeople. Two Sisters Café is an exercise in living off the land; their menu reads like a thesis in organic farming, and the community feel is second to none.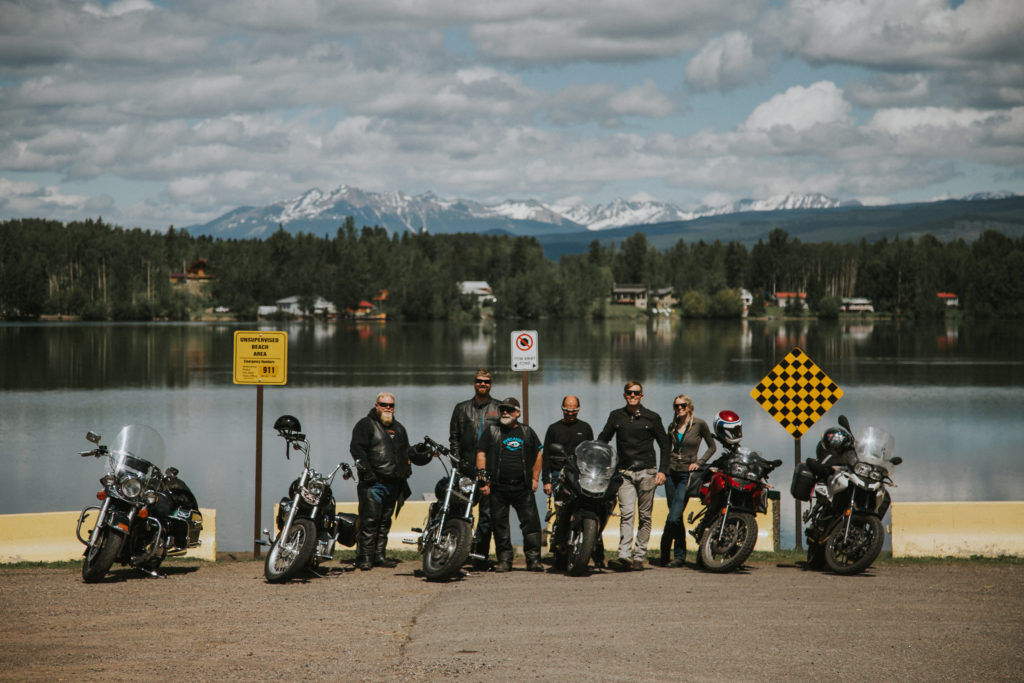 Riding here also stands up to scrutiny, and local boys Lee (armed with a month-old DynaGlide, a broad smile, and hair and stature becoming of a Viking hero) and Bryan (a soft-spoken veteran mechanic, born and raised in Smithers, and well over 6'5) showed us around the valley's twisty lake roads and mountain viewpoints. Lake Kathlyn, Old Babine Road and Babine Lake Road should all be on your list. One evening we ended up at a dead-end road with a small bluff overlooking the entire valley, and sitting on our bikes reflecting on the summer evening light softening the landscape before us was almost painfully beautiful. After several minutes of awed silence, Megan turned and softly promised, "If I ever had to leave Vancouver and move somewhere nice with great people, I would probably end up right here."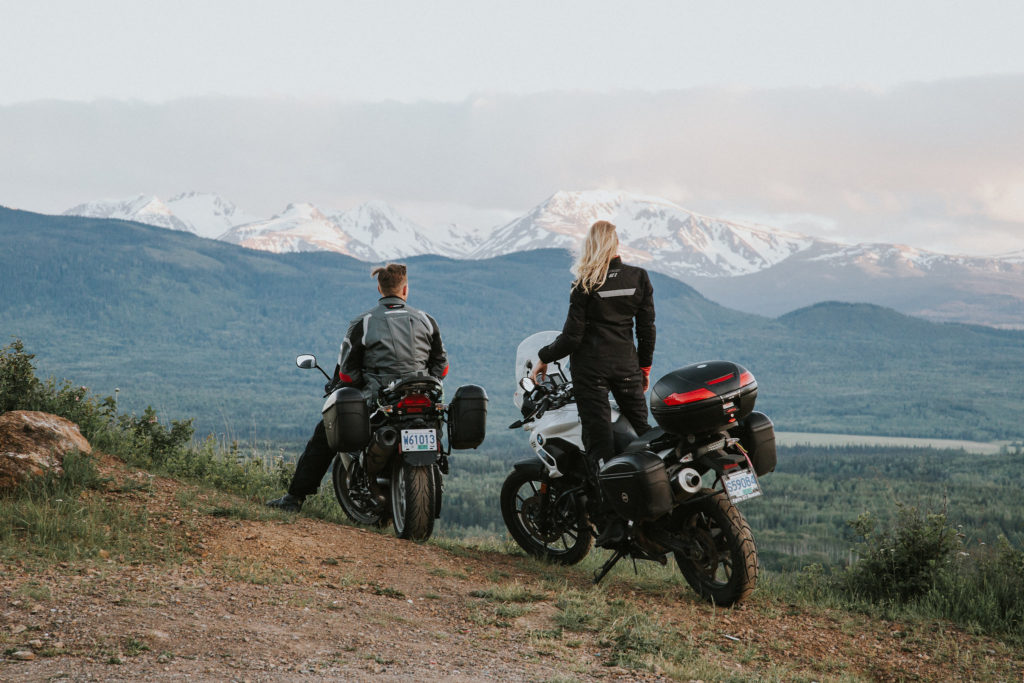 When you've checked the boxes in Smithers (assuming you actually want to leave), it's westward again towards the sea and snowcapped mountains. Hazelton is one of BC's historical outposts steeped in First Nations traditions, and watching the residents fish the tight rapids with traditional methods is impressive. A detour into Old Hazelton is worth it for the suspension bridge alone, a beautiful, perfectly proportioned bridge framed by the curvy road above it against the steep river ravine walls.
JS, always thinking of photographic aesthetics, was tickled pink and spent a good while capturing us riding back and forth across the bridge in the soft morning light. Further west, the Seven Sisters row of peaks welcomes the rider to the Coast Mountains, a rough-and-tumble jumble of rock, snow and ice, the geological upstart to the Rockies' refined, sophisticated nature. JS's day was improving by the hour.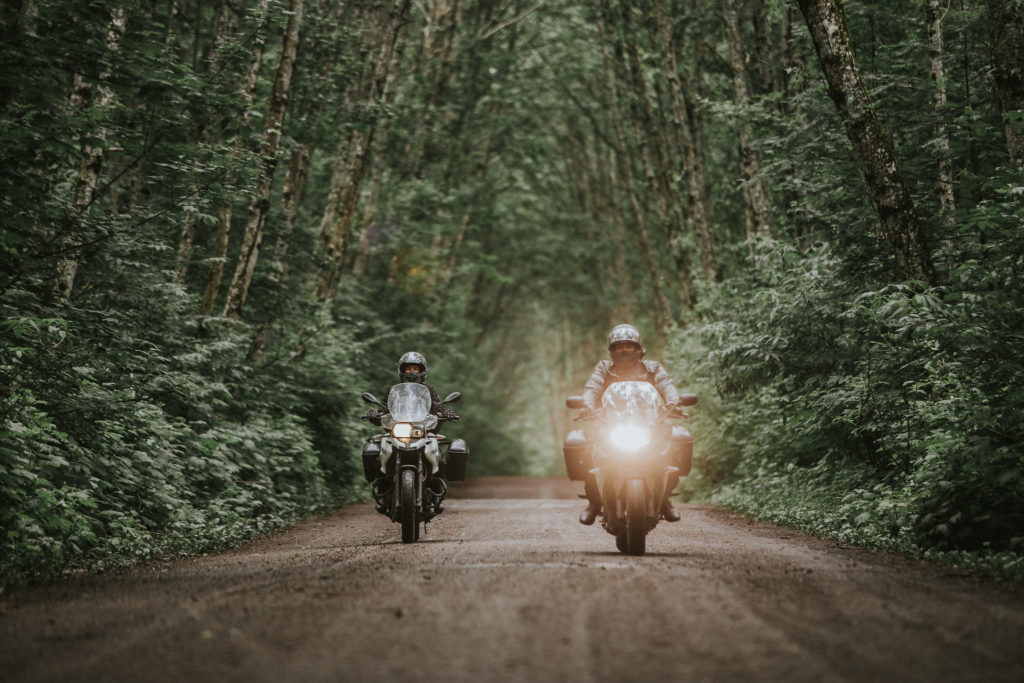 Terrace is another bastion of outdoor recreation and the economic hub and gateway to the northern BC coast. South is Kitimat, BC's natural gas dispensary; west is Prince Rupert; and 100 km north is the Nass Valley, traditional home of the Nisga'a Nation and — oddly — British Columbia's answer to Pompeii and the Hawaiian Islands.
The road to Nass is heaven for two-wheel travel, especially when you nail the timing. The weather, tarmac, traffic and views were nothing but perfect, and I've barely ever had as much fun on a motorcycle as I did on that quiet Tuesday morning. Like its southwestern cousin, the Sea to Sky Highway from Vancouver to Whistler, Route 113 is a well-drawn strip of two-lane tarmac surrounded by wondrous mountains with water lapping at our feet. It's a road designed to wipe the chicken strips off the sides of your tires, or simply to impress at a more relaxed pace, depending on your steed and your comportment on that chosen day.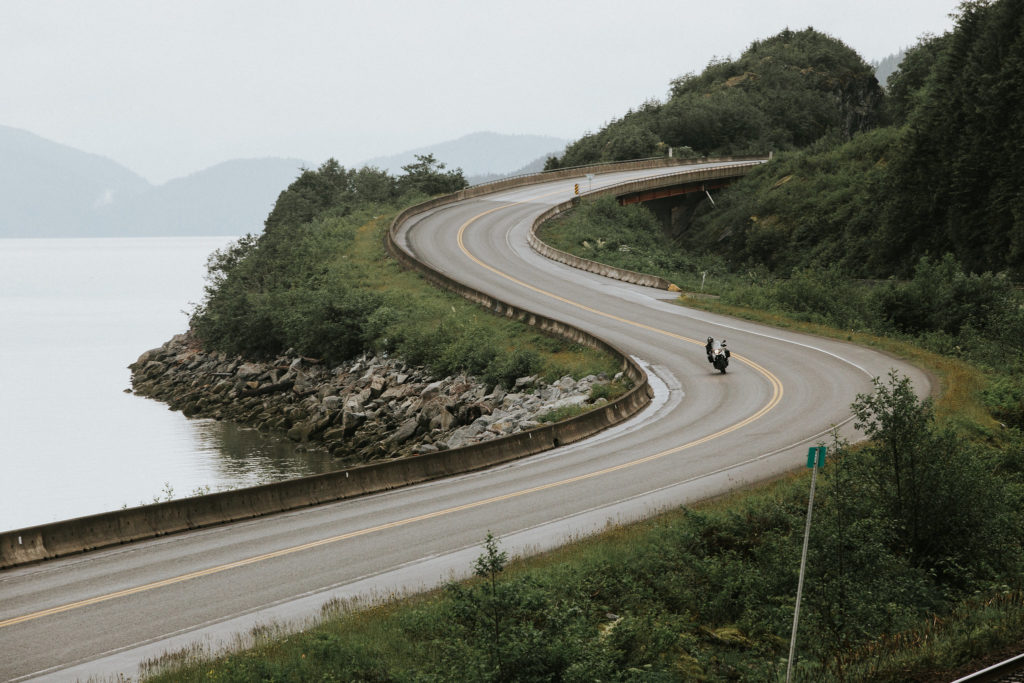 The Nass is a valley at war with itself, full of nature's brutal murderer — long-hardened molten lava — now calmly resting in the shade of epic, snow-capped mountains that feed the valley its life-giving water. Offering a 50 km self-drive auto tour consisting of eight stops of interest including a beautiful museum, the visitor can read about the freak volcanic eruption 250 years ago that buried a village of 2000 Nisga'a, dammed and redirected a river, and left behind petrified trees, a flooded forest, hot springs, and pockmarked lava beds reminiscent of Hawaii. The road forks three ways mid-valley, and at each end are living, successful communities of Nisga'a people, still very in touch with their roots and the disaster that shook them in the 1700s. They're also connected to the modern world, offering comfortable places for travelers to stay, and managing their lands, politics and resources with notable success. Truly an inspiring people, and the Nass is a must-visit destination on a motorcycle trip along the 16.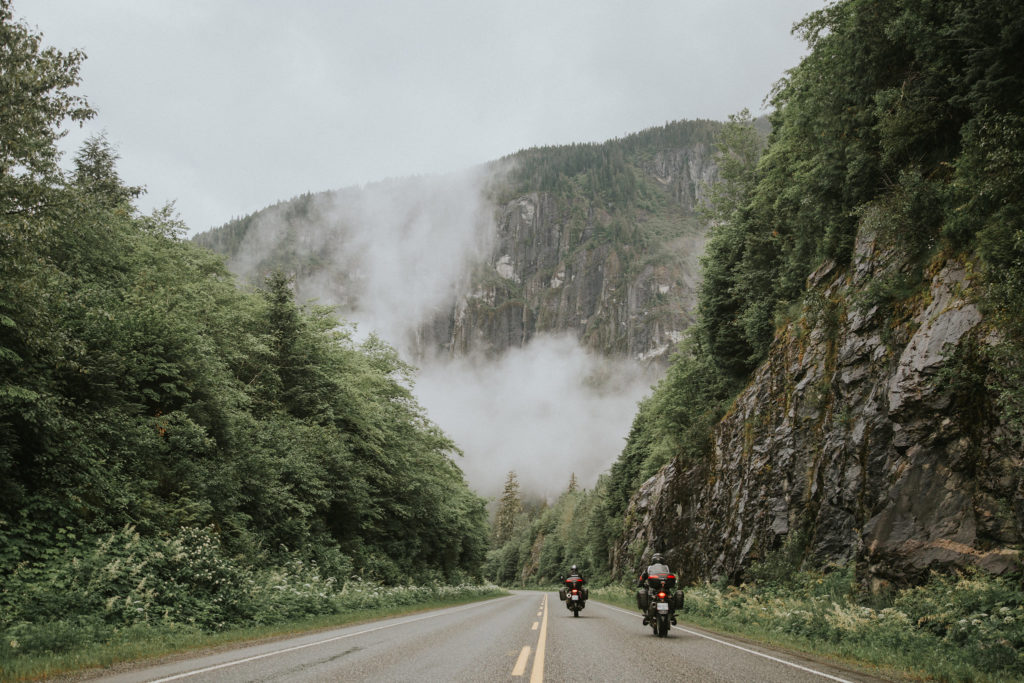 Being an out-and-back road, you get the pleasure of riding Highway 113 south again back to Terrace, where you can easily spend a day or two visiting Lakelse Lake or strolling along Ferry Island Trail. Mandatory stops for food and drink include Sherwood Brewing and Don Diego's, the town's favourite chalkboard menu restaurant where the food's taste and quality knows no bounds, but once it's gone for the day, it's gone.
Finally, it's on to Prince Rupert, mainland terminus of Route 16. The road there follows the powerful Skeena River and gets more picturesque with every tick of your odometer. The meeting of the tidal inflow and river's outflow makes for interesting currents and beautiful colours, and the mountains and forests grow more impressive as the coastline approaches. History is prevalent here, with ancient pictographs visible by the roadside, and the ruined vestiges of canneries, fishing ports, and logging outfits melding with their natural surroundings as time marches on.
Everything is bigger and more rugged in the North, and Prince Rupert is a prime jumping-off point for experiencing this collective aura. Humanity has always been drawn to the region for its plentiful fishing, big-game hunting, and the coniferous gold that lines the coast in the form of easily felled and floated lumber. Fortunately, many local and international groups have stemmed the outflow of resources, but still encourage visitors to come see, but not touch. To that end, whale and grizzly viewing is another first-rate reason why the world comes to town. People come from around the globe to see the Khutzeymateen Valley, a fiercely protected fjord a 2.5-hour boat ride north of Rupert where grizzly bears, lone wolves and bald eagles can dine, live and love in peace without a worry. Watching an 800-pound mother grizzly tenderly feed or play with her triplet cubs is heartwarmingly beautiful, and brought excited exclamations from our fellow travelers from Canada, Europe, Australia and more. One particular traveler from South Africa jubilantly told us, "This trip is costing me 50% of my annual salary, and it's 100% worth it."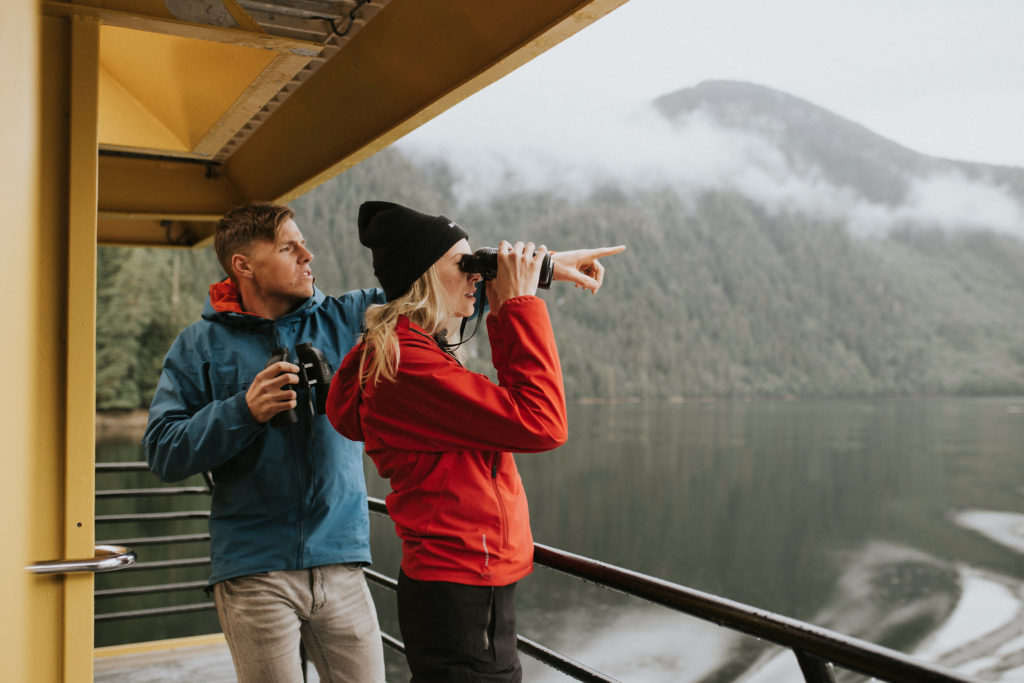 Back on the mainland, a visit to Prince Rupert's Museum of Northern BC is paramount; it's here you can get a true appreciation for the trials and tribulations of the area's ancient First Nations, early European settlers, and the violent clashes that resulted from their coming together over otter pelts and timber in the late 1700s. Life on the North Pacific coast has never been easy, and it's a testament to human persistence and downright stubbornness to read the stories of the region's early days.
Fortunately, the modern-day traveler can visit in comfort, and perhaps no more so than at the Crest Hotel or the Cassiar Cannery. The former is Prince Rupert's crown jewel hotel and restaurant, with great views of the harbour and traditional rooms and fare. The latter was formerly the longest-running cannery on the West Coast (there were over 250 of them from Vancouver to Juneau, operating from the late 1800s to the 1980s), and is now a delightful riverside retreat completely refurbished 10 years ago by a couple from North Vancouver. Mark and Justine's property is truly at the end of the road, about 25 minutes from Prince Rupert, past Port Edward and the North Pacific Cannery (another brilliant historical stop of interest that provides a glimpse of what used to be one of BC's largest industries). Arriving there is like coming home to a place you've never been to. The menu is ever-changing and always delightful, put together in an open kitchen by the small staff.
To cap off a trip down Route 16, you've got one more task ahead of you: from Prince Rupert back to "civilization" it's a case of choose-your-own-adventure. Backtracking east down the road is the easy — but long — way out. It's a 20-hour ride back to Vancouver, and really, you just came from there, so why not see something new? To the northwest is Haida Gwaii, a land of mist and legend formerly known as the Queen Charlotte Islands and the true most western end of Canada.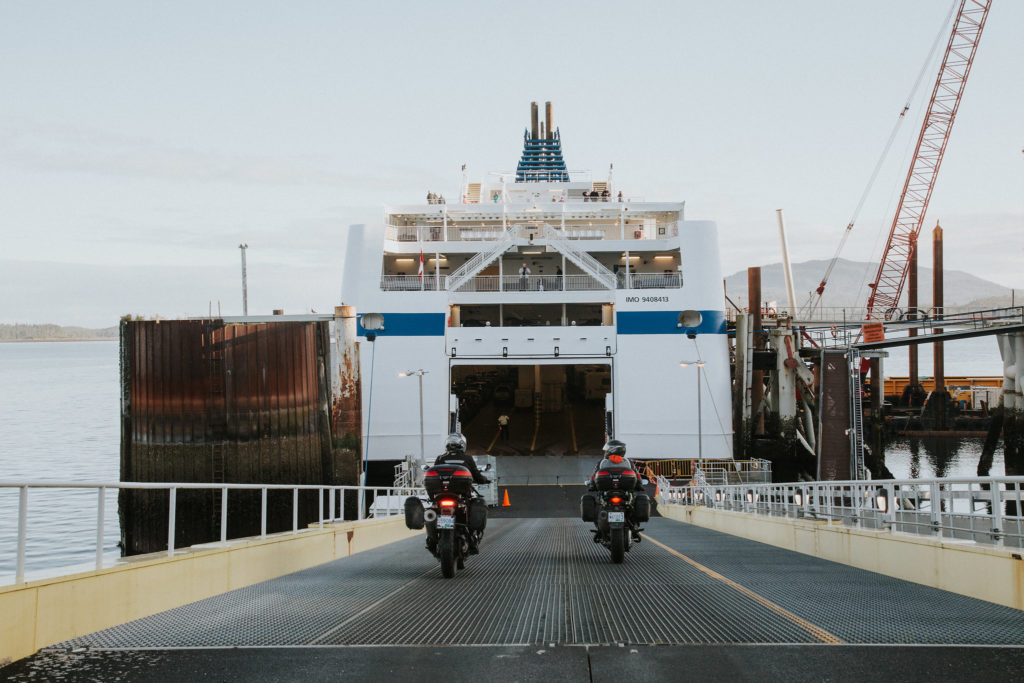 We opted for the most logical route, south through the Inside Passage on a 16-hour ferry ride not unlike a cruise, only this one sails through lands so virgin many have barely felt a man's footfall. Passing through narrow channels and high seas, some islands are dotted with long-forgotten outposts of humanity, and the sea and sky are full of life. Dumping its cargo in Port Hardy, at the northern tip of Vancouver Island and a proverbial stone's throw from Vancouver, the Queen of the North turns back towards its namesake bearing. She heads back into the mist to deliver residents and travelers to their respective destinations along this beautiful, mighty, yet fragile coast, and to pick up another load of adventurers like us, coming home smiling with minds full of memories, having somehow, each in their own way, been impacted by the people, places and things on offer in northern British Columbia.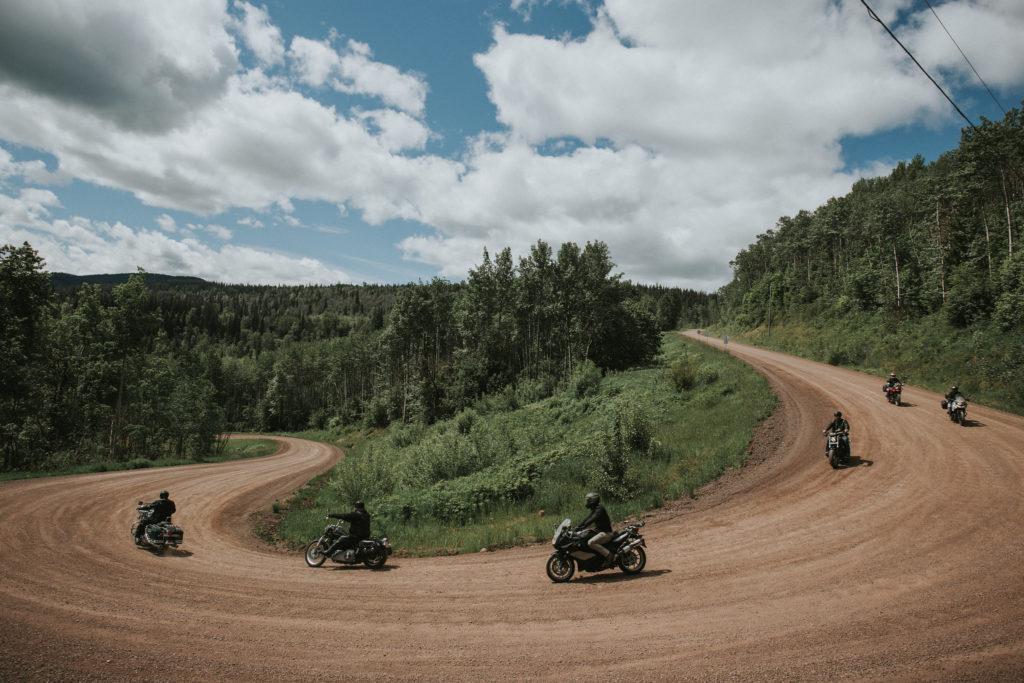 From Port Hardy home to Vancouver, it's a straight seven hour ride down the Island to Nanaimo or Victoria, and another boat ride with happy tourists, busy commuters, and perhaps whales or other sealife alongside. Vancouver Island itself is also full of options for adventure and relaxation, from whale watching in Telegraph Cove, hiking and paddling in Strathcona, or surfing and coastal exploration in Tofino.
But this trip was focused on the north, and as we rolled down the Island, home to our loved ones and everyday lives in Vancouver, we had time to happily reflect on Route 16 and what it means to travel there. Megan was most taken by the nearly endless opportunity for off-road adventure riding, and vows to return on a bike prepped for gravel. JS couldn't stop talking about the mountains, forest, wildlife and quiet places, away from the urban hustle and bustle that we become so accustomed to in Vancouver. Personally, I love the people and the multi-faceted potential for outdoor recreation of all kind, mechanized and self-propelled, and available year-round. Like modern-day travelers, early European settlers, and the First Nations before them, we were all struck by the beauty and majesty of Northern BC in different ways. The landscape bores into you in a way few places do, and you won't come away unaffected.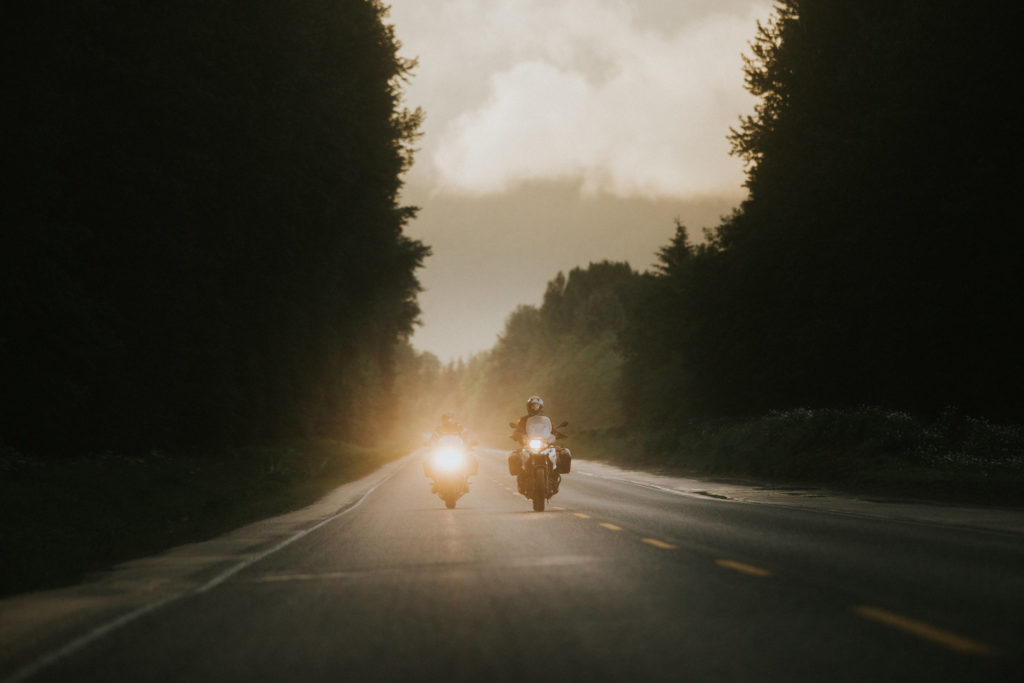 Go there. See it. Experience it. Ride it. Come back home, tell your friends and family, and bring them back there so they can see it for themselves. It will open your eyes to new people, places and things.
It will feed and fill your soul.
---
Photos by Jong Sun Park. For additional photos from the trip, follow us on Instagram.
For more information about touring Route 16, visit route16.ca.
Special thanks to our gear sponsors: Joe Rocket Canada, SENA, and Rok Straps Canada