Thirty degrees, sunshine and a cloudless blue sky spanning over the Pemberton Speedway lured several dozens of flat track riders from all over British Columbia to the track that is nestled among the mountains and the Sea-to-Sky highway between Whistler and Pemberton. The race that took place on Sunday July 31st was the second of three rounds in the BC Championship Points Collection Series, which started at the Merritt Speedway in June and will finish on the O'Keefe's Historic Ranch in Vernon in September. It was also the first official race organized by the Vancouver Flat Track Club (VFTC) in this season, since their May date was rained out.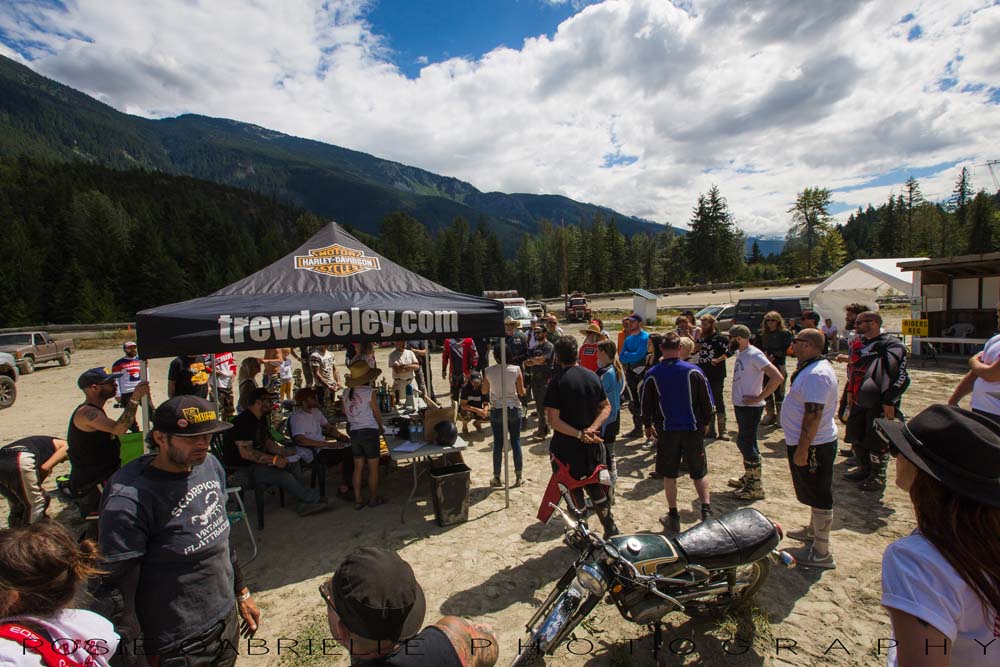 VFTC consists of a group of friends who have ridden together and shared their love of motorbikes for years, but who only just at the beginning of 2016 founded the club. The location, Pemberton Speedway, is a 1/3 mile clay-based dirt track that was originally used for car racing. "We had caught wind that there was a dirt oval in Pemberton, and after a bit of investigating we approached the Pemberton Speedway Stock Car Club about hosting a race event there," recalls Niki Kendall. She was involved with the races from the beginning and saw the potential to grow the sport in the province. Together with a handful of friends who equally split organizational responsibilities, several test and tune days were put on last year which set the pace. Teaming up with Flat Track BC and Flat Track Canada, as well as sponsors such as HITCASE, Trev Deeley Motorcycles and Exhibition, Fast Times Magazine, The Shop Vancouver and others, enables the club to have full-weekend events with one day of open practice and one race day. On these days, the club also relies on volunteers who help out with registration and camping for the participants and audience, a cook shack, as well as track safety and maintenance.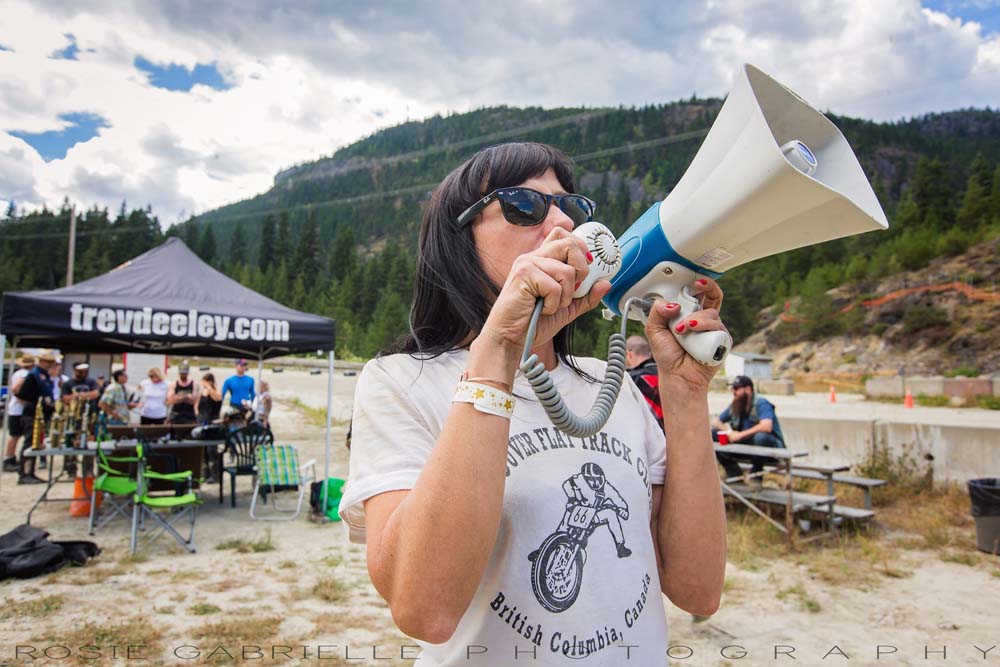 The dry July heat demanded several watering breaks to settle the dust on the track between the heat and main races in seven classes: Novice (beginners over 16 years on bikes with any displacement), Ladies (women over 16 years on any bike), XT500/Knobbies, Intermediate (advanced racers), Mini Bikes, and two Vintage classes with bikes older than 1984 (either up to 399cc/4-stroke and 249cc/2-stroke, or 400c/4-stroke and 250/2-stroke and over). The races went on all afternoon until the sun started setting, which got the spectators on the bleachers increasingly excited for the last and fastest race of the day: the Intermediate class.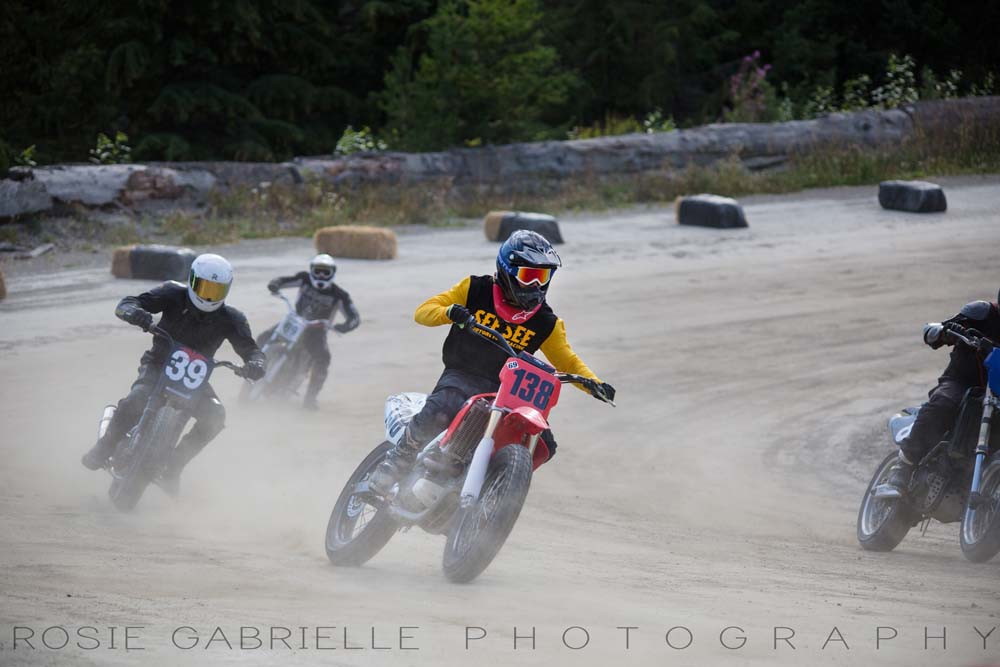 #138 Sam Villanueva took the win on his 2004 Honda CRF450R after a thrilling shoulder to shoulder run with his opponent and fellow club member Keddie Brown along the edges of the oval. "It felt amazing, especially having my Dad there, it meant the world. I spent the prior week in Ontario racing two Flat Track Canada National Races, where I got my ass handed to me. So to come back to BC and take home a giant trophy was incredible," says Sam, who is one of the founders of VFTC. He was celebrated by his friends, family and all the participants and visitors during the award ceremony – both for winning first place and for organizing a successful event.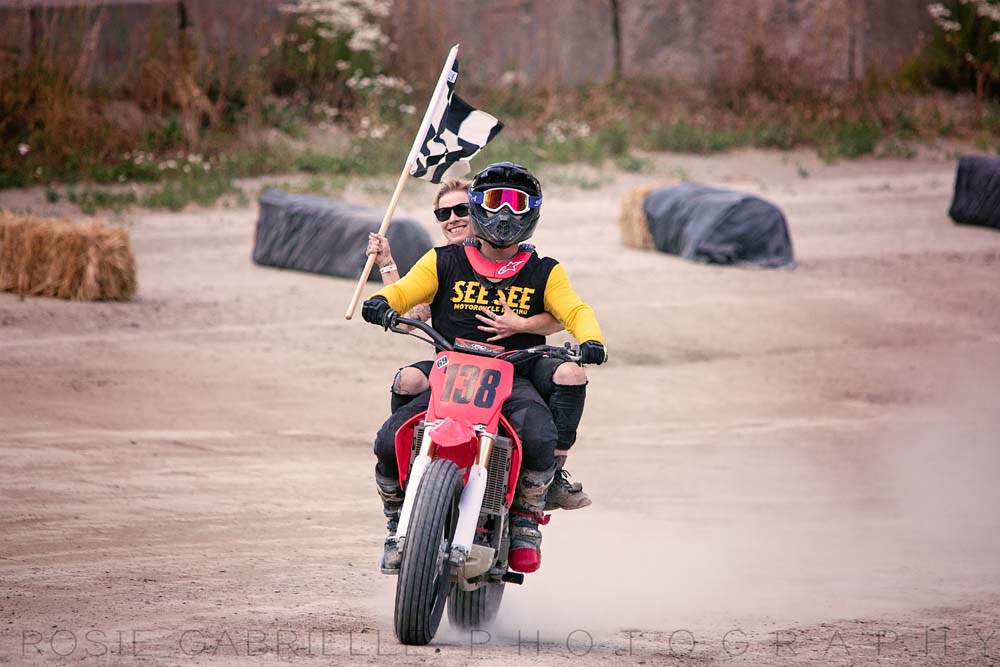 The organizers have created an extremely pleasant and professional atmosphere for riders of all skill levels and lovers of unique builds, vintage framers or modern DTX race machines. This makes for clean, exciting races among pros as well as beginners, and inspires even unexperienced riders to try themselves out. The fact that VFTC hosted a Flat Track Canada Riders Clinic at the Pemberton Speedway in June contributes to this inviting spirit and makes novices such as Bri Vogelaar feel very motivated to pursue the sport more seriously.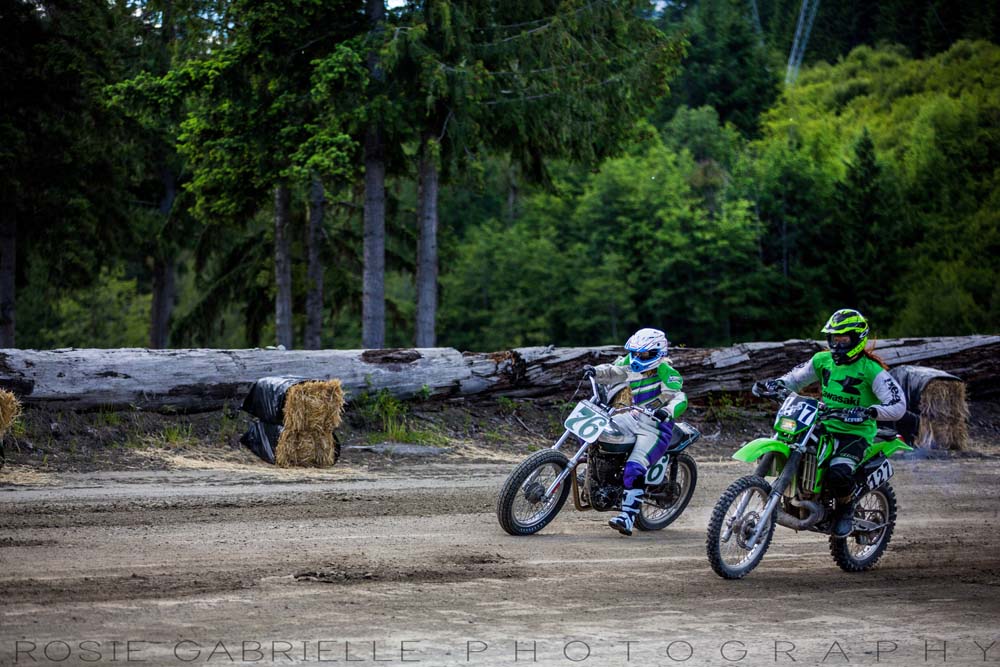 After simply turning up at the flat track and riding it on a slow bike last year, she fell in love with racing. Bri then participated in the two-day schooling, where she learned about body position and bike control. "I really feel like it made me a bit faster. All I want is to go faster with confidence, rather than fear," she says. With that confidence, she placed second in the Ladies Class on Sunday on the 1976 Yamaha TT540 she shares with her husband Kristian Evans, who successfully races in the Novice class. The couple sports the number #76 and has started collecting points for the provincial series at the beginning of the season. Both of them also crashed in Pemberton, but thankfully with only minor injuries. Their bike's front end was quickly fixed in the pit by helpful friends and other club members, so that team Vogelaar/Evans could continue to the mains. This mix of community, plus a serious passion for bikes and a reviving motorsport was present throughout the whole weekend.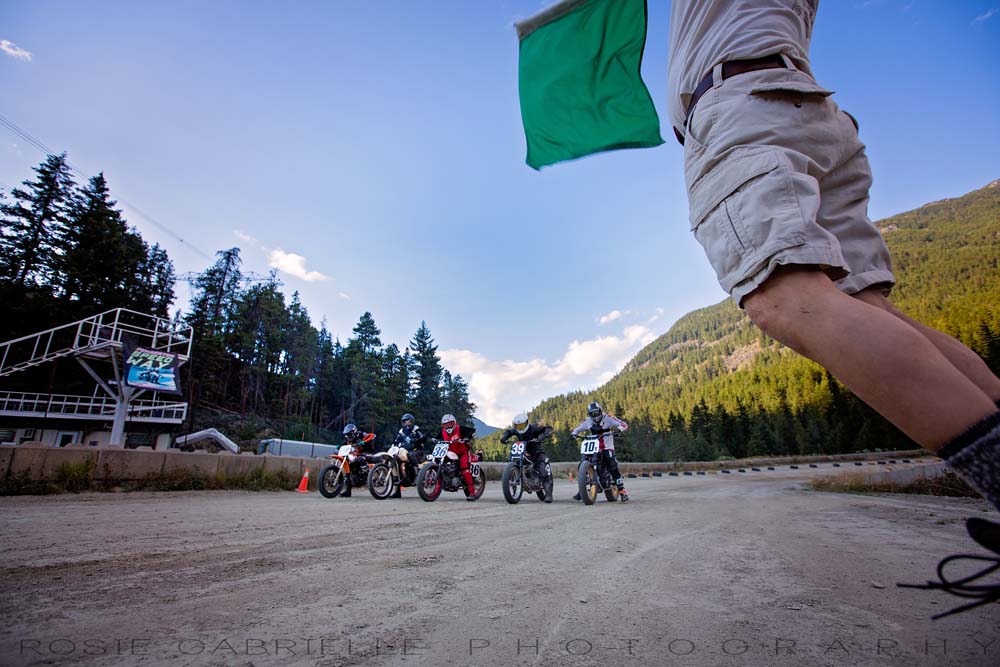 Niki reveals VFTC's future plans: "We want to make our events bigger and better, while hopefully incorporating national events across the country with Flat Track Canada." The next race at the Pemberton Speedway is coming up on Saturday, September 17th 2016. Take it as a reason for a beautiful ride along the Sea-to-Sky highway to watch fast and fun flat track racing in a breath-taking location. Maybe you catch the race bug? If you are interested and your motorcycle meets the tech regulations, it could soon be your time to: "Go fast, turn left!"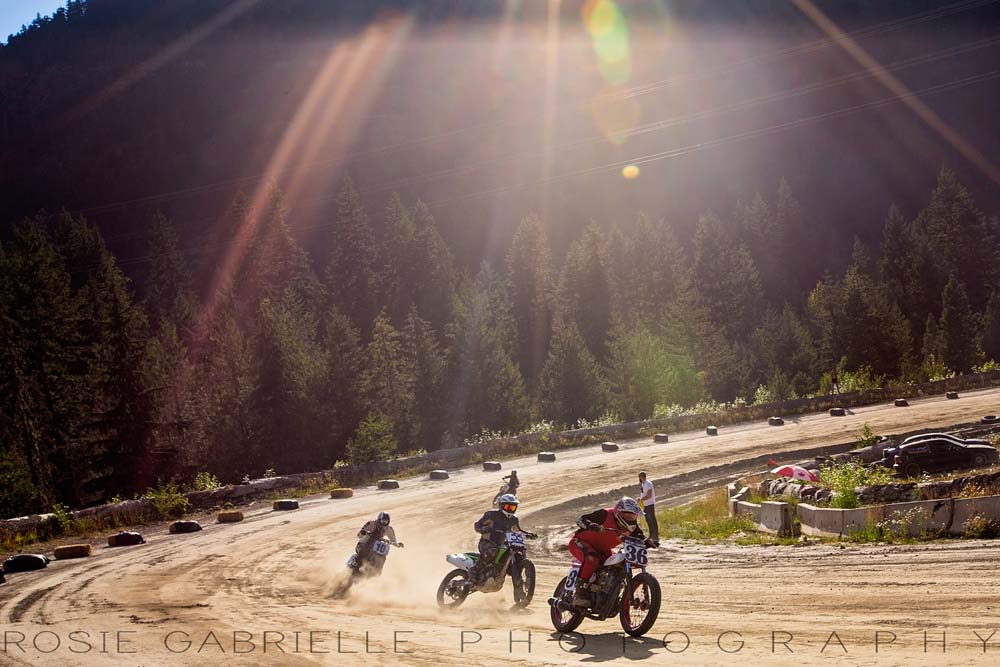 ---
Photography by Rosie Gabrielle.
Check our events calendar and these links for upcoming events and more info.
http://flattrackbc.com/ | https://www.instagram.com/vancouverflattrackclub/