We all dread these rainy spring days, when it's too nasty to ride your bike. Thanks to the fine storytellers of our world, however, all is not lost, and there is a slew of great motorcycle reading and watching to lose yourself in while you wait for sunny spring weather. In no particular order, here is a list of top five books, with a couple bonus titles thrown in as sequels.
If you haven't read all or any of these, you've got some work to do.
Leanings 1, 2, and 3 – Peter Egan, (2009-2014)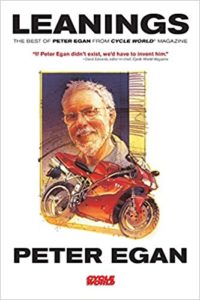 Peter Egan is one of America's most loved petrol-powered journalists. And while he writes about planes, cars, his projects and passions relating to both, it's his three decades of work for Cycle World that really draw the love of his readers. Myriad monthly columns and a huge library of feature stories cover everything from touring in the Alps to sneaking across the Canadian border in the rain and chasing old British and Italian bikes across the country to finding "the best new bike ever" numerous times. Above all, Egan draws you in with wonderful analogies and incredibly simple explanations of why everyone should ride a motorcycle, and how you can most enjoy yourself doing so.
Jupiter's Travels – Ted Simon (1973)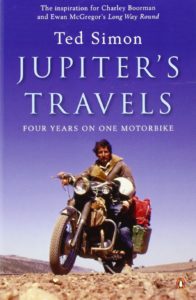 A journey of self-discovery and freedom of exploration in the 1970s, a decade of glorious highs and demoralizing lows, depending on what music and design lovers you speak to. Ted Simon's post-divorce round-the-world adventure covered 64,000miles (103,000km) through 45 countries and involved pretty much everything you might imagine you'd run into riding a motorbike around the world 40 years ago. He was accused of espionage, elevated as a deity, imprisoned, and helped all along the way. It was this book that inspired Ewan McGregor and Charlie Boorman's projects Long Way Down and Long Way Round. It's a legendary tome, in short, and in Ted Simon's words, "the journey of a lifetime, a journey that millions dream of and never make."
BikeExif: The Ride & The Ride 2 – Chris Hunter & Robert Klanten, (2014 & 2015)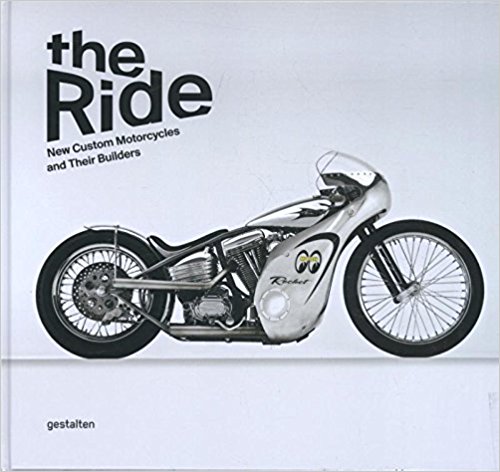 Chris Hunter comes from New Zealand, an island far away from everything, but covered in twisty roads and beautiful scenery. Fortunately Chris looked at the motorcycle world outside of NZ, and soon began posting up nice custom bikes from around the globe on his blog, BikeEXIF. It's now grown into the authoritarian resource on custom built motorcycles, and fills many motorcyclists' email inboxes every day. Even better, they have two books now, and it's smack full of everything you can dream of from the best in the business. Revival Cycles, Deus Ex Machina, Wrenchmokees, Walt Siegl, Shinya Kimura, and more. If you have plans to one day build a custom café, scrambler, tracker, or basically anything non-stock that's not a chopper, you need to take some inspiration from these guys. It also makes for a gorgeous coffee table book.
The Rugged Road – Theresa Wallach (2010)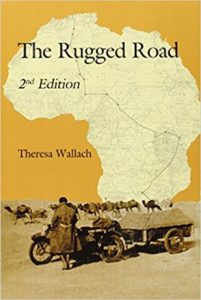 There's nothing like getting denied entry to a club because of your gender, and then going out into the world and besting every person in that club at exactly what they're in to. Theresa Wallach and Florence Blenkiron were born in the early 1900s in motorcycle-mad London and eventually made a name for themselves in the racing community. In 1934 they set out to ride a single-cylinder Panther from London to Cape Town, something no one had ever done before, and without much in the way of proper roads, navigational equipment, or knowledge of what they might encounter. Having ridden through part of Africa myself, I can say that this is a fascinating story, and one you should consider adding to the bookshelf. If nothing else, it's a tale that will make you feel simultaneously inadequate and incredibly inspired.
The Vincent in the Barn – Tom Colter (2013)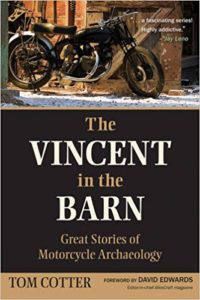 Many a car and motorcycle enthusiast has dreamt of that moment: a relative or a friend of a friend mentions something about a vehicle "out back under a tarp", which turns out to be an all original Porsche 356 or a Vincent Black Shadow. Here we find a collection of 40 such stories, interesting and exciting tales of discovery of all sorts of motorcycles all over the world. You may find yourself taking more of an interest than ever in old buildings that may house an undiscovered two-wheeled treasure.