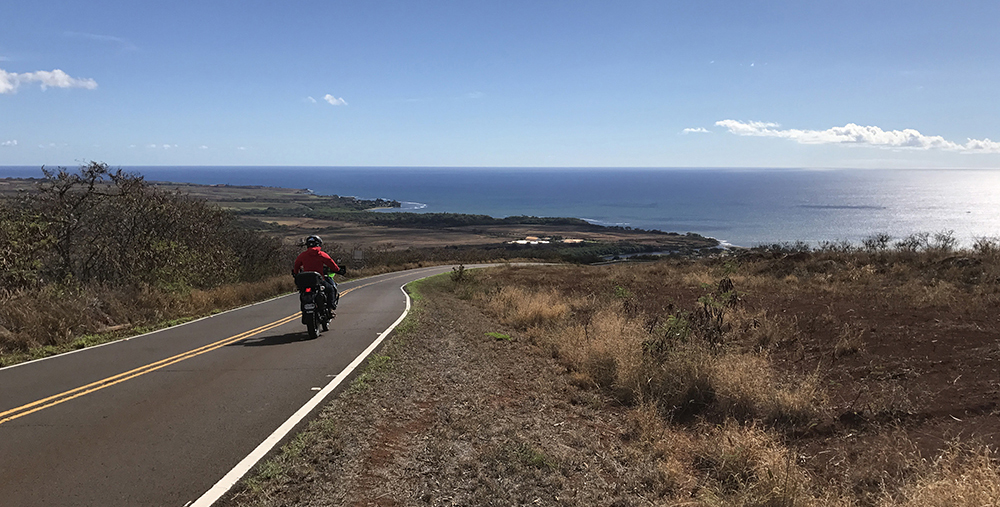 In the middle of the Pacific Ocean, the small Hawaiian island of Kauai is famous for being a surfer's paradise. But unbeknownst to many the oldest of Hawaii's eight main islands is a rider's paradise as well. Nicknamed the Garden Isle, Kauai is one of the most beautiful and peaceful places I have ridden. It is lush and mountainous and offers staggeringly beautiful views around every bend. The rural island has very little commercial development; there are no skyscrapers, no financial districts, no mega malls. Time seems to slow down in Kauai, and the chill island pace makes for a very relaxing riding experience.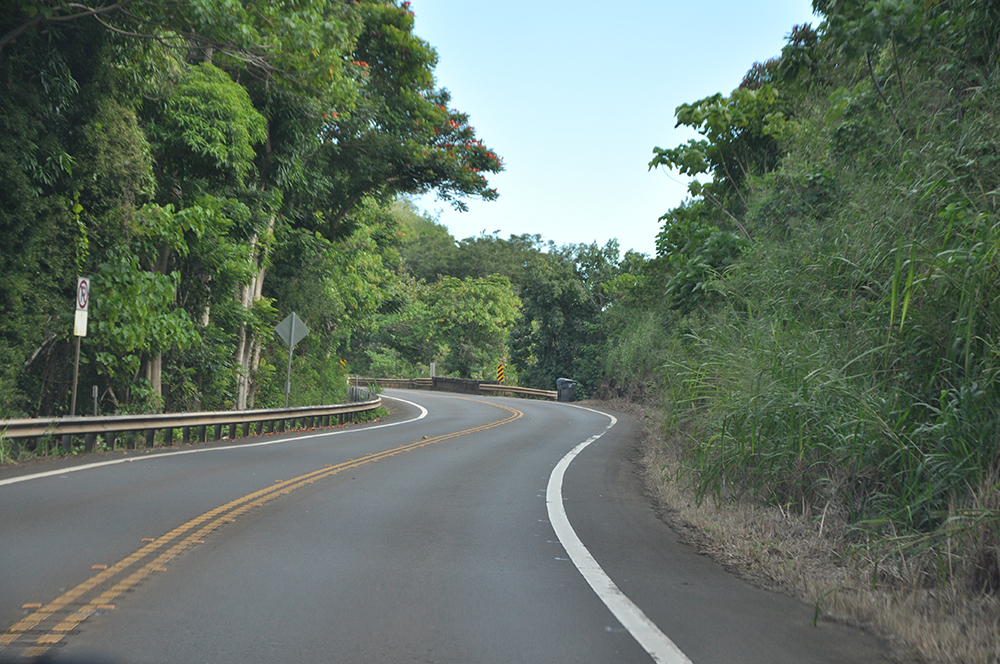 More than 2,000 miles from the nearest continent, Kauai is accessible only via cruise ship or plane, so riding there is out of the question. Luckily for tourists, there are a couple of options to rent motorcycles on the island, including Kauai Motorcycle Rentals, which my boyfriend Shawn and I opted for during our recent trip to the island. The small outfit is based out of the island's largest town, Lihue (with a whopping population of 6,455), and offers a small but diverse fleet of bikes including cruisers, dual sports, and sport bikes.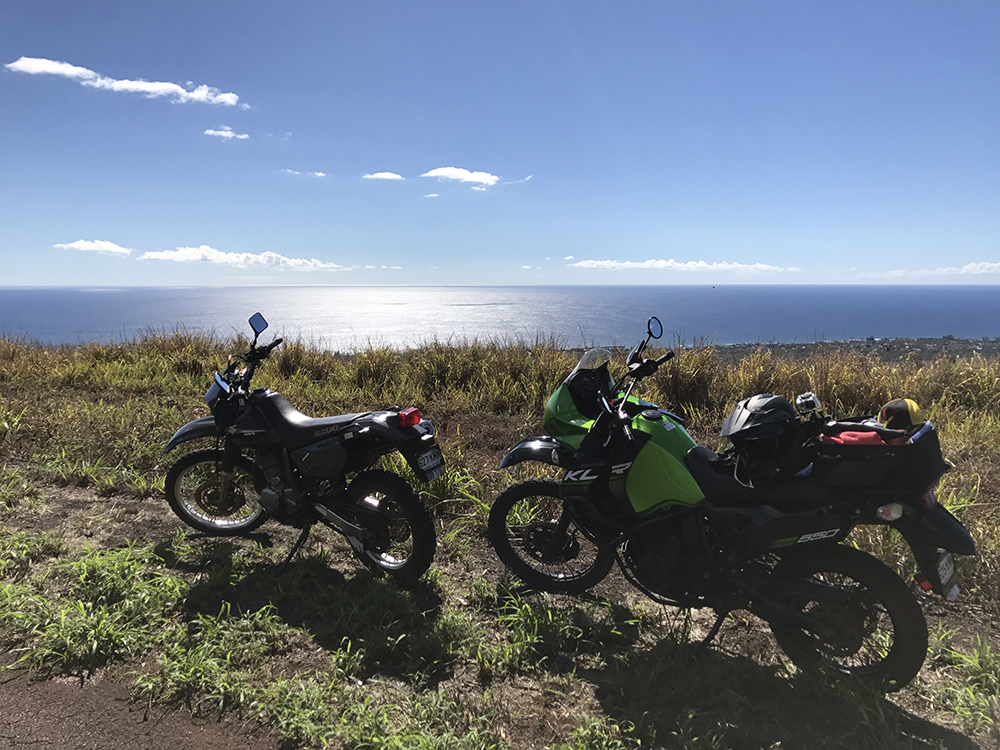 Shawn and I rented a Kawasaki KLR650 and a Suzuki DR650 for our two-wheeled excursion. While I'm more familiar with sportier models, the dual sport bikes seemed best suited for the island's terrain, not to mention the maximum speed limit of 50 mph. With gentle slopes and low speed limits throughout the island, Kauai is cruiser central, and it's no wonder. You wouldn't want to go too fast, even if it were permitted, lest you miss out on stunning sights or a roadside acai bowl stand.
Having rented the motorcycles for one short day, I quickly realized that I had made a mistake. The ideal way to explore Kauai on motorcycle is with no particular plan, just enjoying the island's relaxed pace and stopping off at beaches, waterfall lookouts and shave ice shops as you go. Hawaiians even have a word for leisurely cruising for pleasure: "holo holo."
Acai bowls were a special tropical treat
Because time was of the essence for us, we managed to cover a lot of ground and rode around most of Kauai in one long day. There is a single highway that nearly circumnavigates the island, and riding non-stop from one end to the other takes roughly 2.5 hours. Two to three days, however, would be an ideal minimum, to allow time to holo holo.
The highlight of the ride for me was Waimea Canyon, a stunning canyon on the western part of the island. Nicknamed the "Grand Canyon of the Pacific," it is only a fraction of the size of the cavernous landmark, but it is arguably just as breathtaking. The road up to the canyon rim is gorgeous as well. With twisty roads flanked on one side by coastal views and canyon views on the other, it took a lot of discipline to stay focused on the road ahead rather than the sights riding up there.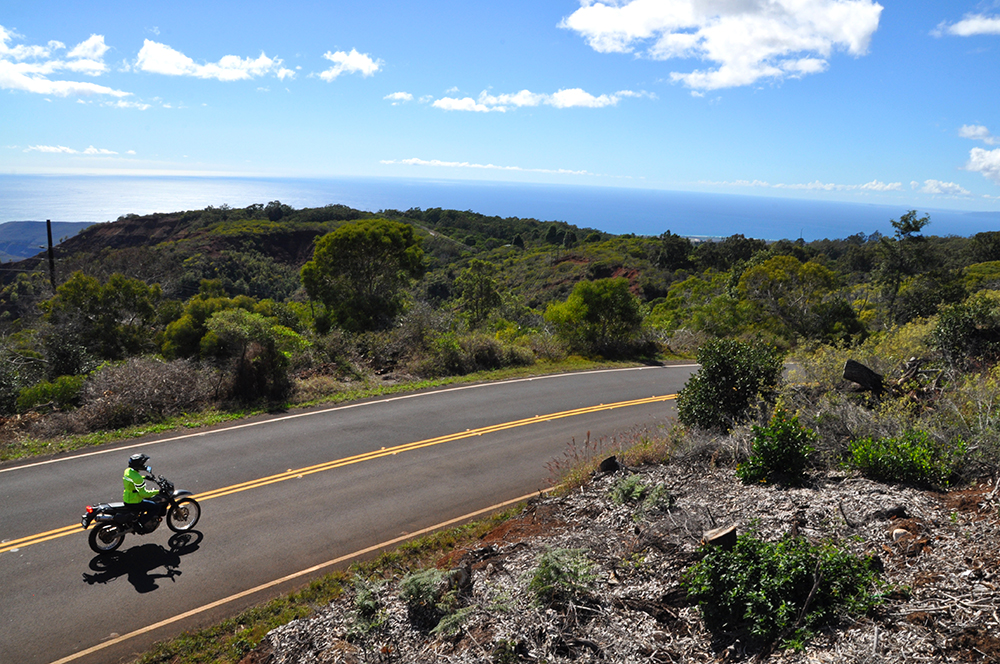 As we rode out of the canyon, I was comfortably sinking into the windy curves and beholding the ocean view when I was jarred from tranquility by a deer suddenly bounding across the road just a few metres in front of my bike. I had just enough time to squeeze on the brakes and let the creature safely pass. It was a necessary reminder to stay vigilant; even paradise can be dangerous when on two wheels.
Another more visible hazard is the abundance of wild chickens that roam about freely due to a lack of predators on the island. Luckily I didn't encounter any on the road, though there were plenty of the feral birds curbside and strutting through parking lots.
Following some exploration of the southwestern side of the island, we headed east where we stopped by two waterfall overlooks to see Wailua Falls and Opaekaa Falls. The convenient ride-up views were beautiful and well worth a moment of our time.
By the time we made it to the eastern town of Kapaʻa, we encountered its notorious rush hour traffic, which was uncomfortably reminiscent of riding in downtown Vancouver's rush hour. After becoming well acquainted with the bike's clutch, I was eager to get out of there.
The weather in Kauai can be a bit unpredictable. While the temperature is quite moderate year round, certain months can receive quite a bit of rainfall, and it's not uncommon for it to be sunny one minute and dumping rain the next. In fact, Vancouverites might be surprised to hear that the wettest place on earth is actually not our very own "Raincouver," but Mount Waialeale in Kauai, where it rains an average of 335 days each year! We visited Kauai in December during its rainiest month, so we came prepared with a dry sack and a rain jacket. Both items came in handy while riding along Kauai's north shore, a microclimate that typically receives more rainfall than the island's other coastal regions.
While crossing over Hanalei Bridge at the northern point of the Hanalei National Wildlife Refuge, it somehow managed to be simultaneously rainy and sunny. Fortunately, the rain didn't last long, and just minutes after the downpour a rainbow appeared in the sky. In Princeville, we had the fortune of witnessing a humpback whale breaching below the arc of a rainbow. Stunning sights like this will allow you to overlook any of the island's inconveniences.
During our holo holo around Kauai's North Shore, we passed beautiful pastoral scenes of grazing livestock and taro fields shimmering under the golden light of the setting sun.
That evening, the island was quiet and peaceful, and I relished in the beauty of Kauai's magnificent moonlight. I reflected on how happy I was to be there. As my mind drifted back to the snow-covered streets of Vancouver I had left behind, I thought about my bike, cooped up underground, where it will likely remain for the remainder of the winter season. Riding in Kauai was a sweet taste of freedom,just what I needed to keep me going until spring.