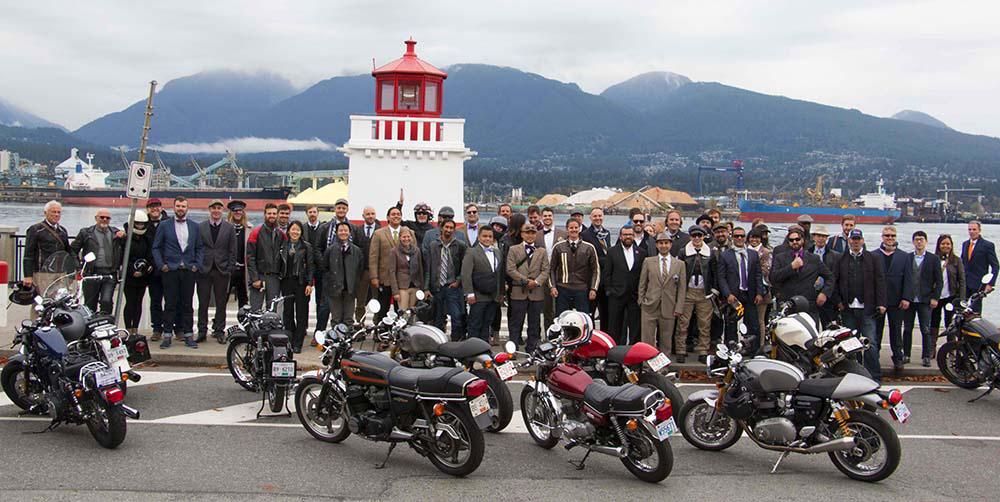 More than a hundred motorcyclists dressed in their finest attire graced the streets of Vancouver last Sunday for a cause. The 2016 Distinguished Gentleman's Ride, an eye-catching band of bikes and bow ties, was meant to raise awareness and money for research into prostate cancer, mental health and male suicide prevention programs.
The international charity ride for men's health, born in Sydney, Australia in 2012, was inspired by a photograph of Mad Men television character Don Draper straddling a classic motorcycle. Mark Hawwa created the themed ride to combat the sometimes-negative image people have about motorcyclists, while bringing the two-wheeled community together. In its first year, more than 2,500 riders participated in 64 cities.
During the second ride in 2013, the event attracted about 11,000 bikers around the world who took to the streets in 145 cities and raised over $277,000 USD. Since then, the ride has continued to grow and build a name for itself. This year, nearly 57,000 ladies and gentlemen raised more than $3.3 million USD. Such a massive rider turnout, more than 22 times that of the first ride only four years earlier, has made the gentleman's ride the largest motorcycling charity event in the world.
Vancouver riders have taken part in the gentleman's ride since the first year, though the city did not officially became part of the ride until its second iteration in 2013, when organizers in Australia reached out to 32-year-old bike enthusiast Mike Kehl who was eager to get involved.
"One of the organizers sent us an email asking us if we wanted to be hosts and I guess I was the only person who volunteered," said Kehl. "In 2013, The Shop sponsored the event and we had around 20 bikes. This year we did it together with Rocket Fuel Supply Co. and we got 111 registered riders."
Vancouver was one of more than 500 cities to participate in the 2016 worldwide event, which happened on the same day across 90 countries. The 111 registered riders in Vancouver, who together have raised about $9,600 USD, were a fantastic sight to see. Local bikers rode an eclectic variety of motorcycles to complement their dapper ensembles, from modern bikes with a touch of vintage – such as the Ducati Scrambler, the Triumph Thruxton and the Moto Guzzi V9 and V7 – to real-deal classic motorcycles from the 1970s, including BMWs, Vespas, Hondas and more.
Despite its name, the Gentleman's Ride welcomes women to participate. Sandra Crean who began riding in the charity event in London in its inaugural year, said she has seen firsthand the amazing rise in popularity of the event in the motorcycle community.
"The first year it was just between friends and people who got their bikes fixed in the same garage; there were 70 bikes and it's just grown massively," she said. "The last one that I went to (in 2014), there were 1,500 bikes trying to go through London."
Aside from being fun, Crean said the most important part of the ride is to raise awareness. "I've been fundraising since the beginning and been part of the ride from the first year and it's really important to raise awareness for these causes," she said.
But where some riders are enthusiastic about raising money for charity, others are more interested in connecting with like-minded bikers. Local rider Chan Lee, for example, confessed that at first he thought the gentleman's ride was only about the ride. For him, it was a great opportunity to get to know people since recently moving to Vancouver.
"It's only been three months since I moved from Alberta, so this is a really nice way to get to know people with the same interests as me," he said. "The whole thing behind it (about) raising awareness for prostate cancer is great, but for me it was more (about) the group ride at first, to be honest."
The causes – mental health, suicide prevention and prostate cancer awareness – are certainly worthy. This year, the Vancouver Sun reported that one Canadian man commits suicide every three hours on average, totalling about 3,000 fatalities a year and accounting for three-quarters of all suicides in the country.
According to the Canadian Cancer Society, prostate cancer is the single most common cancer among Canadian men. In fact, one in eight Canadian men will likely  develop prostate cancer in his lifetime. Furthermore, approximately 24,000 new cases of prostate cancer are diagnosed each year in Canada, or about 99 cases for every 100,000 people. Fortunately, continued research funded by charities such as the Gentleman's Ride means that prostate cancer has an encouragingly high survival rate when detected early.
There is still time to donate. Fundraising for the Distinguished Gentleman's Ride continues until Oct. 31, and registered riders who raise more than $200 USD have the chance to win prizes such as a Triumph Street Twin motorcycle and limited edition Zenith watches.
*The reporter used protective gear provided by Rocket Fuel Supply Co. and a Ducati Scrambler Icon provided by Ducati Richmond.
---